Let's face it, when you're serving in the military, shipping your vehicle cross-country can seem like one more headache you don't need. Suddenly, you've got to deal with tight timelines, unexpected costs, and the need to ensure your ride's safe transit. We get it. And we're here to help! With a little insight from TruckSpot Logistics, we're laying down the nuts and bolts of military car shipping to make your next move smooth sailing.
The Journey of Cross-Country Army Vehicle Transport
Shipping your ride while in the army might feel like a Herculean task, but don't sweat it! We've got you covered with this step-by-step rundown that'll have you navigating the process like a pro.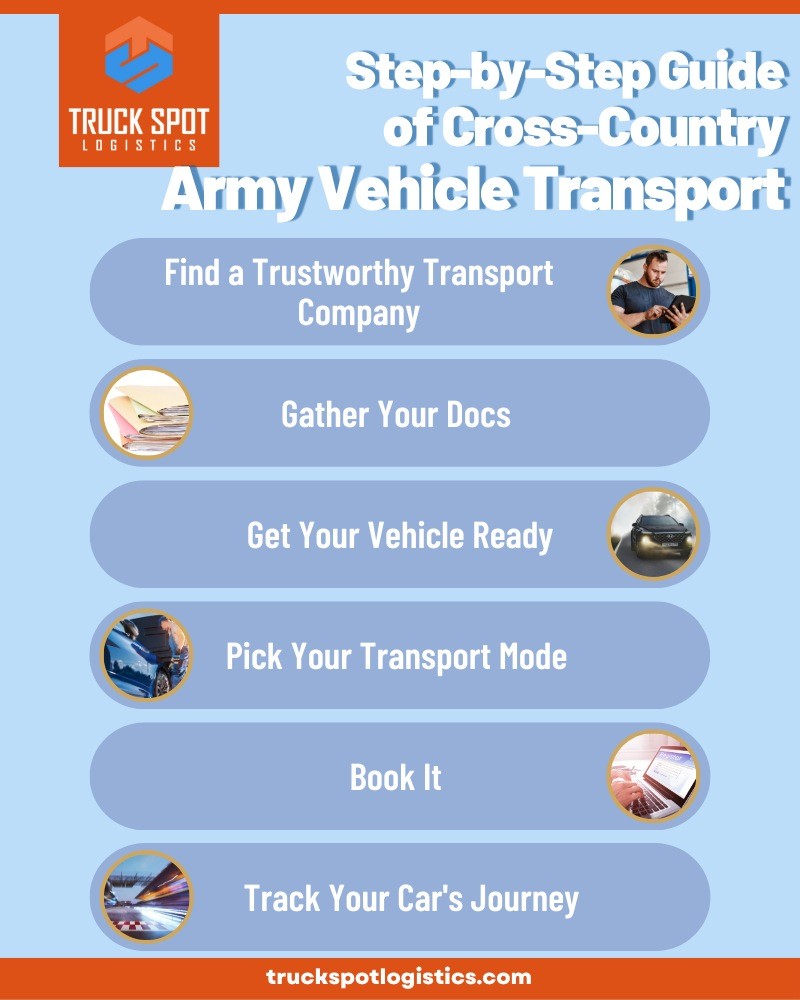 By following these simple steps and partnering with an experienced company like TruckSpot Logistics, you can rest easy knowing your four-wheeled friend will get to your new digs safely and right on time.
Major Challenges and Their Solutions for Army Vehicle Shipping
Shipping your vehicle as a military member comes with its own set of roadblocks. But don't worry, we've got some pro tips to help you conquer these challenges like a champ: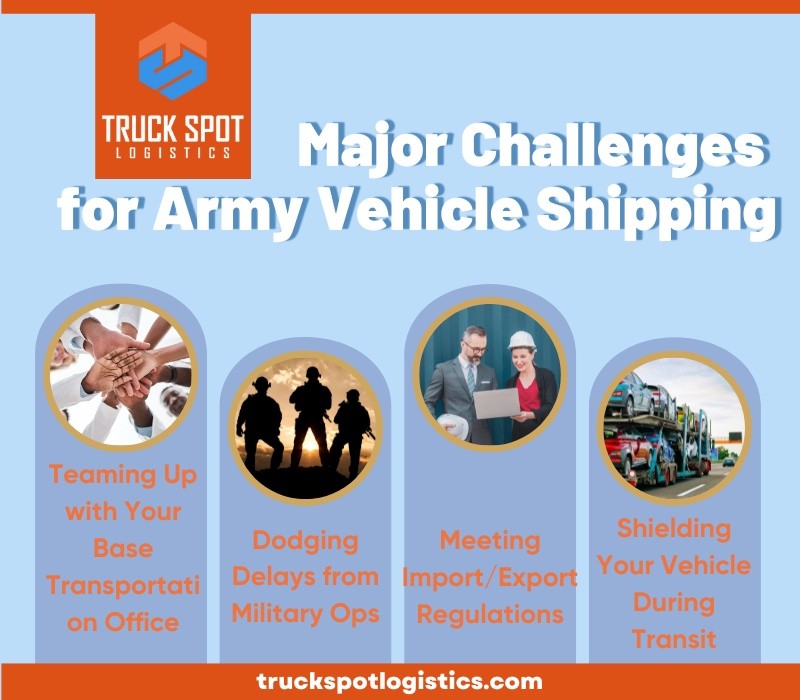 These challenges might seem tough, but with a bit of foresight and planning, you can cruise through them. Choose a trustworthy, experienced transport company like TruckSpot Logistics, and you'll not only overcome these challenges but will also have peace of mind throughout the journey.
The Value of Thorough Preparation for Military Auto Shipping
You've heard the old saying: "Preparation is the key to success," right? That couldn't be more true when it comes to military auto shipping. Thorough prep can make the difference between a smooth ride and a bumpy one, saving you time, money, and stress. Here's why getting your ducks in a row before shipping your car pays off: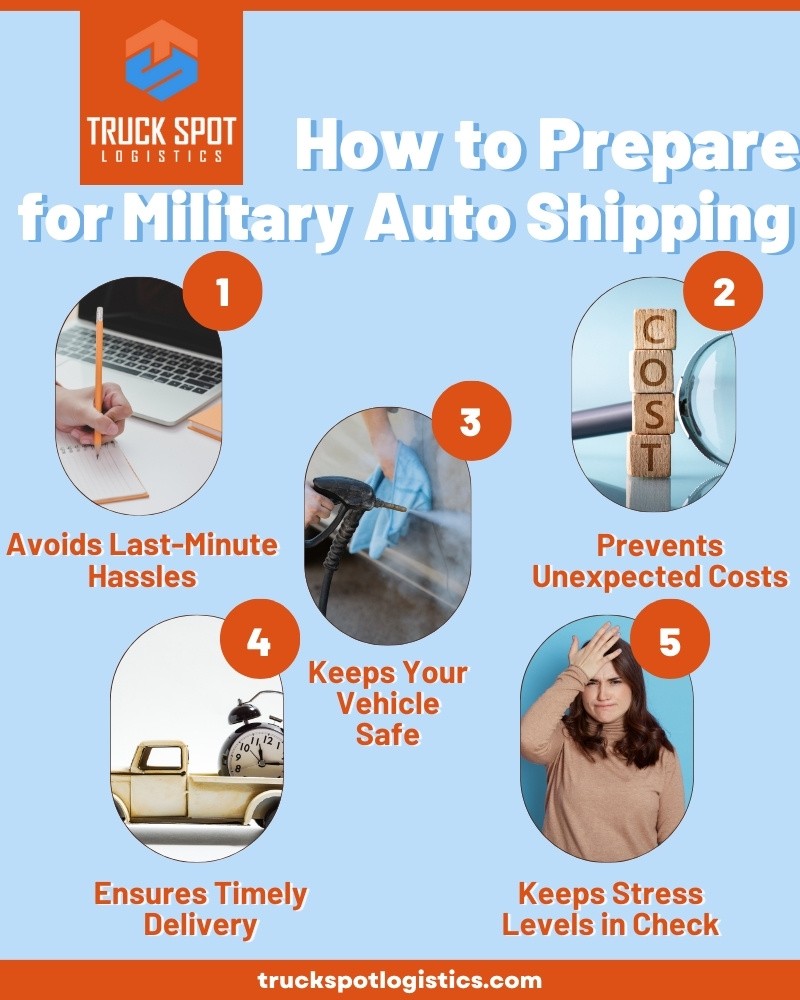 So remember, while shipping your car as a military member might seem daunting, thorough preparation can make the journey a whole lot easier. Trustworthy platforms like TruckSpot Logistics are here to help you at every step of the way, ensuring a seamless transition for you and your vehicle.
Navigating the road of military car shipping might seem like a daunting journey. But with a bit of strategic planning, a dash of careful prep, and the right transport partner, it can be smoother than a Sunday drive. Remember, each challenge is surmountable and every potential roadblock can be navigated with ease. The key is to stay ahead of the game by preparing well and choosing an experienced transport company. Platforms like TruckSpot Logistics can help simplify the process and save your time, money, and peace of mind. After all, in the fast-paced world of the military, having one less thing to worry about can be the best move you make. Happy shipping!
FAQs
What happens if my vehicle is damaged during shipping?
If your vehicle is damaged during shipping, it's covered by the transport company's insurance. Document the damage, notify the company, and they should guide you through the claims process.
Can I ship my motorcycle or boat using the same process?
Absolutely! The process for shipping motorcycles or boats is similar to that of vehicles. Be sure to inform your transport company about the type of vehicle for specific instructions.
Can I pack personal items in my vehicle for shipping?
While it may be tempting to use your vehicle as a moving box, it's generally not recommended. Personal items are not covered by the transport company's insurance and can add weight and risk of damage to your vehicle.
How long does cross-country vehicle shipping usually take?
Cross-country shipping can take anywhere from a few days to a couple of weeks, depending on the distance and the transport company's schedule. Your company should provide an estimated delivery time.
Does the military cover any vehicle shipping costs?
The military may cover some or all of your shipping costs in certain circumstances, like PCS moves. Check with your base transportation office to see what benefits you're eligible for.
How can I trust the transport company with my vehicle?
Do thorough research on the company, check reviews, ratings, and their FMCSA registration. Platforms like TruckSpot Logistics provide trustworthy and reliable options for comparison.