Vehicle shipping is not immune to the elements; understanding weather impacts can save you from unexpected costs and delays. This article provides a comprehensive guide on how weather conditions affect vehicle shipping and how to prepare for seasonal challenges.
Weather Factors Affecting Vehicle Shipping
Weather is a critical factor in the vehicle shipping industry, as it directly influences transportation logistics and auto transport costs. From potentially dangerous road conditions to severe visibility issues, different types of weather conditions can significantly affect vehicle shipping. Below are some key weather factors: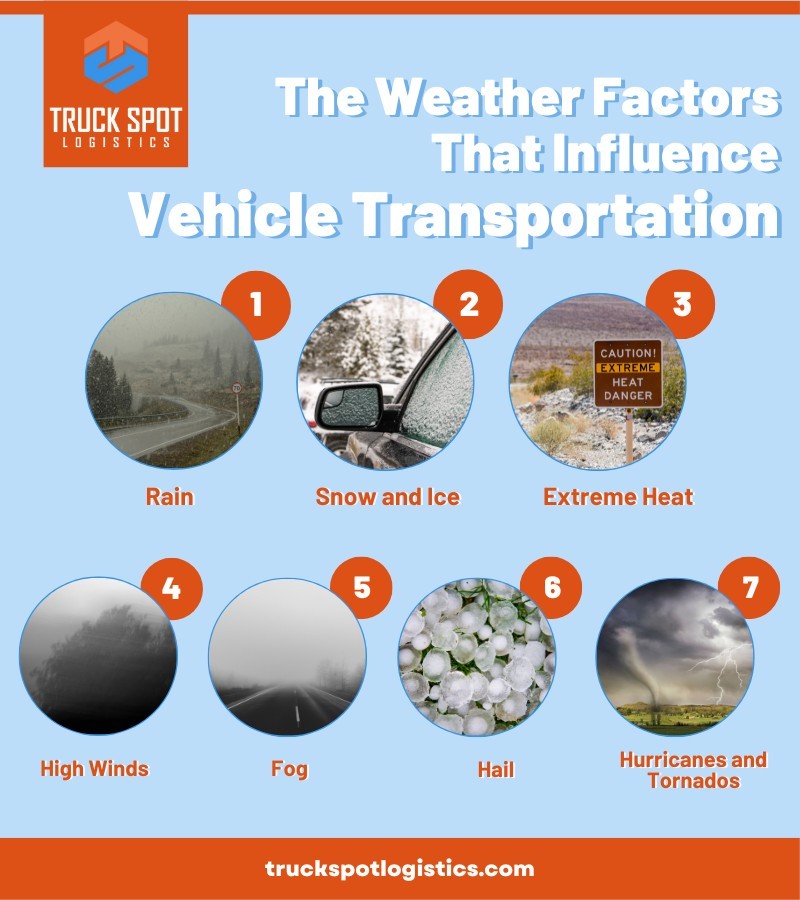 Given these potential weather-related risks, it's essential to plan your vehicle shipping considering the seasonal climate patterns and current weather forecasts of your shipping route. And this is where a reliable vehicle shipping service, selected through platforms like TruckSpotLogistics, can make a significant difference.
Preparation for Weather Challenges
As weather conditions can have a profound impact on vehicle shipping, it's crucial to prepare in advance for potential weather-related challenges. Here's how you can do so: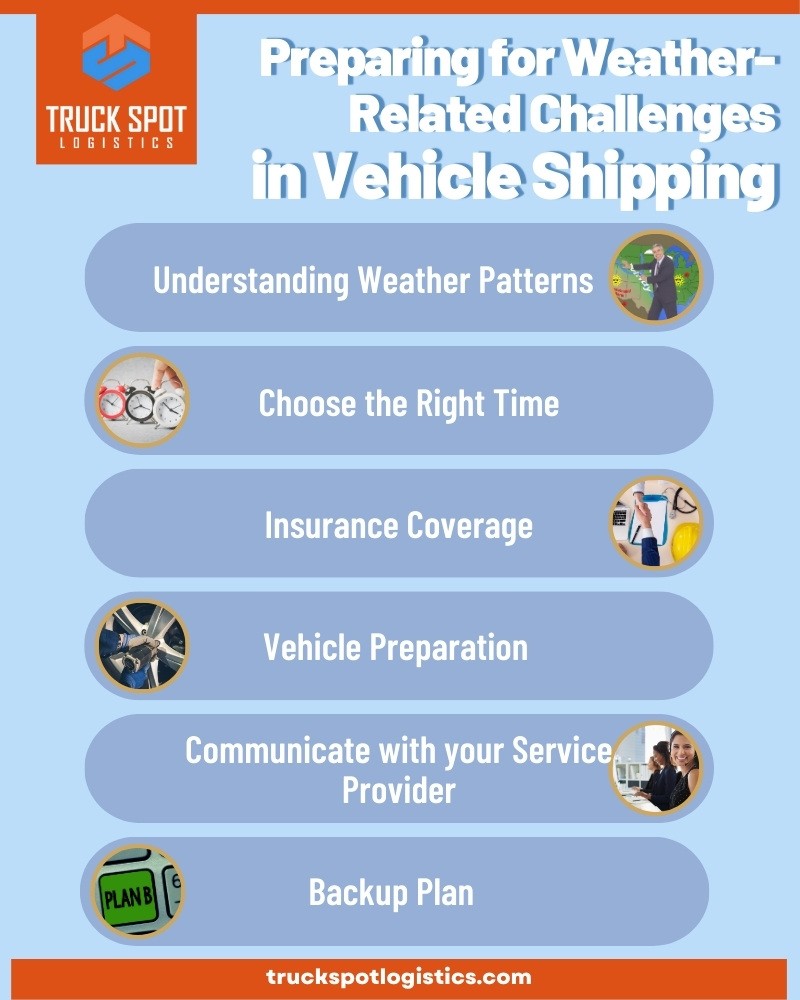 Using a comparison service like TruckSpotLogistics can also play a significant role in preparing for weather challenges. This service can help you find a reliable and experienced auto transport company that can effectively navigate through different weather conditions, ensuring a smooth and safe transport process.
Seasonal Considerations for Vehicle Shipping
As we understand that different weather conditions can impact the process of vehicle shipping, it's also crucial to recognize how seasonal changes play a role in shaping these conditions. Each season brings its unique set of challenges and opportunities, affecting vehicle shipping rates and timelines. Here's what you need to know: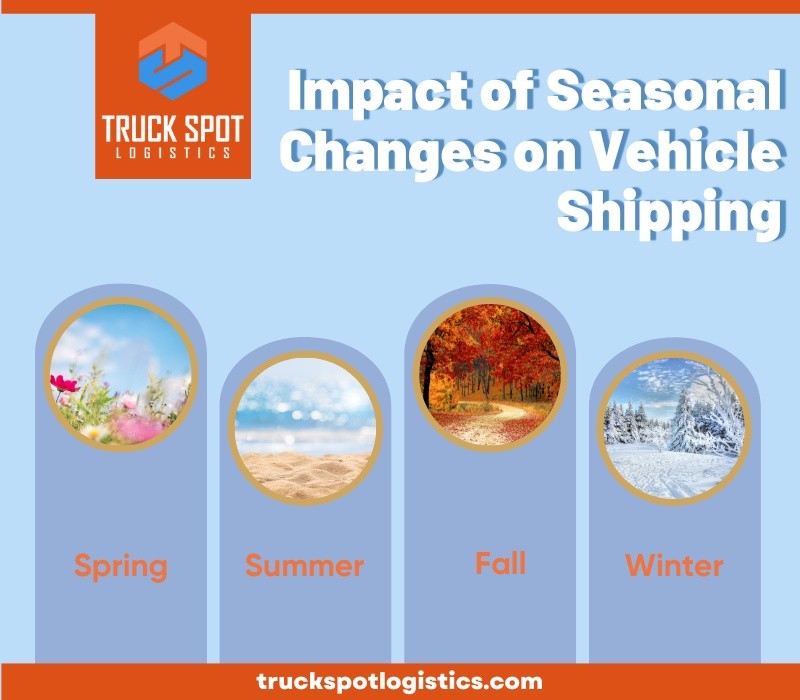 Each season carries with it a unique set of factors that can influence vehicle shipping. By understanding the potential challenges and advantages that come with different times of the year, you can plan your vehicle shipping in a way that aligns with your requirements, whether it's minimizing costs, reducing transit time, or avoiding harsh weather conditions. It's about making informed decisions, considering not only your personal needs but also the larger context of seasonal patterns and their impact on the vehicle shipping industry.
Understanding the intricacies of how weather conditions and seasonal changes affect vehicle shipping is essential for anyone planning to transport a vehicle. Whether it's coping with the challenges of severe weather, understanding how seasons impact vehicle shipping rates, or effectively preparing for any weather-related challenges, knowledge and preparedness are key.
TruckSpotLogistics understands this and offers a platform to compare shipping quotes from reputable auto transport companies, giving you the ability to make informed decisions. Remember, effective planning and choosing a reliable auto transport service can significantly reduce the impact of weather-related risks, making your vehicle shipping experience smooth, regardless of the season.
FAQs
Does the type of vehicle I am shipping affect the cost?
Yes, larger vehicles typically cost more to ship due to their size and weight. Additionally, modifications like oversized tires or lifts can impact the cost.
What can I do if my vehicle gets damaged during shipping?
Contact your auto transport company and insurance provider immediately to report the damage and initiate the claims process.
Are there any specific preparations required for shipping my vehicle in winter?
While your shipping company will guide you through specific steps, general recommendations include checking the antifreeze levels, ensuring your battery is fully charged, and protecting your vehicle's exterior and interior as much as possible.
Can I ship my vehicle during a hurricane?
It is generally not advisable to ship vehicles during severe weather events like hurricanes due to safety concerns. Shipping may be postponed or routes may be altered during these times.
Does the vehicle shipping company provide updates about weather-related delays?
Reputable vehicle shipping companies should keep you informed about any potential or actual delays in the shipping process, including those caused by weather conditions.
Does vehicle shipping insurance cover weather-related damage?
This depends on the specific terms of the coverage. Some policies may cover weather-related damages, while others may not. Always check the terms of the coverage before the shipment begins.