Enclosed auto transport utilizes trailers that are closed from all four sides. Your car will stay in a packed and secure environment throughout the transport process. This will protect it from theft, unfavorable climatic conditions, or any sort of damage.
Let us see in detail how the process of enclosed auto transport works.
Open vs. Enclosed Auto Transport
Which One to Choose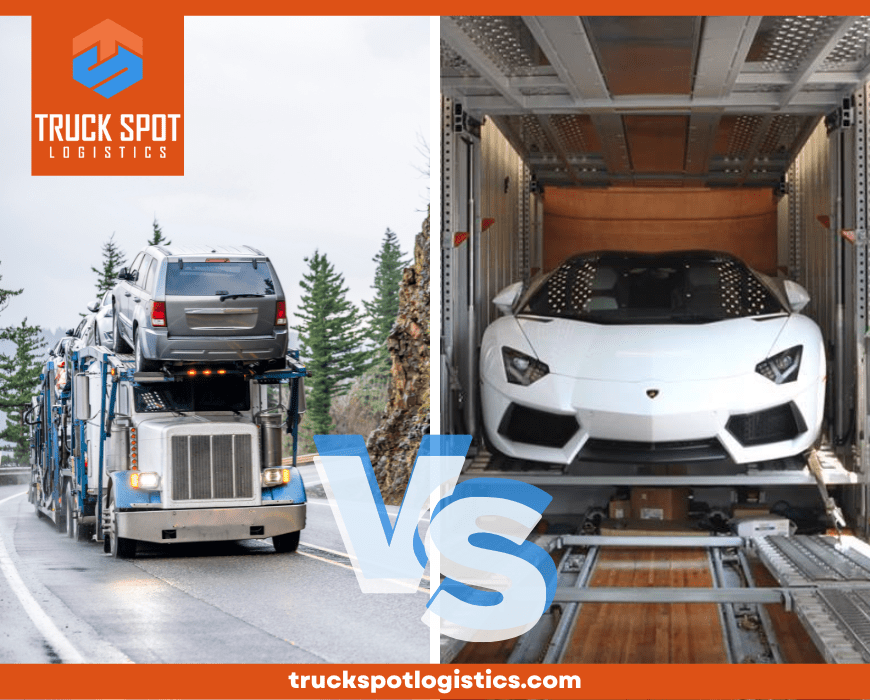 When looking at the options for shipping a car, you will come across open and enclosed auto transport. Many people like to ship their car open transport as it is a convenient and affordable option. It is also quicker compared to enclosed transport as more open car carriers are available at all times.
However, your cars are exposed to harsh climatic conditions, making open car transport a risky option. Nevertheless, damage due to weather or road conditions rarely occurs. Overall, open auto transport is a very good option.
Enclosed auto transport, on the other hand, keeps your car secure and protected. With enclosed car shipping, your car is less likely to be affected by the weather. If you own a luxury vehicle, this is the best option. However, the cost of enclosed car shipping will be around 30% to 50% more than open auto transport.
Considering the pros and cons of open and enclosed car transport, enclosed car transport will be the best option if you have a luxury or expensive car. However, open car shipping will be the right choice for an ordinary car as you can transport your vehicle for the least possible money.
How Enclosed Auto Transport Works?
As the name suggests, vehicles are transported inside a covered trailer in enclosed auto transport. The trailer either has soft side walls or harder ones. The top of the trailer is also covered, which protects the car from the outside elements and harsh weather conditions. Only a few cars can be shipped in closed trailers at once.
Luxury car owners usually prefer enclosed car shipping as they want to protect their valuable asset, the car. The vehicles remain completely covered and protected in enclosed car transport.
The process of shipping a vehicle using an enclosed trailer is quite straightforward. You need to find a company and request a quote from them. They will ask for all the details about your vehicle. Some companies send instant quotes, while others take up to 24 hours.
Once you agree to the offer, the company will contact you for confirmation of the pickup time. The driver will reach the given location to pick up your vehicle after the formal documentation. He will load the vehicle and begin the journey.
You will receive a tracking number to track the vehicle the whole time. Once the vehicle reaches the destination, the driver will contact you again and deliver the car to your doorstep if you have chosen door-to-door service. You can inspect the vehicle during transit.
What Trailer Types Are Used for Enclosed Transportation?
Now that we have a good idea of how enclosed auto shipping works let us dive in to see different types of transport trailers.
1. Single-car Enclosed Trailer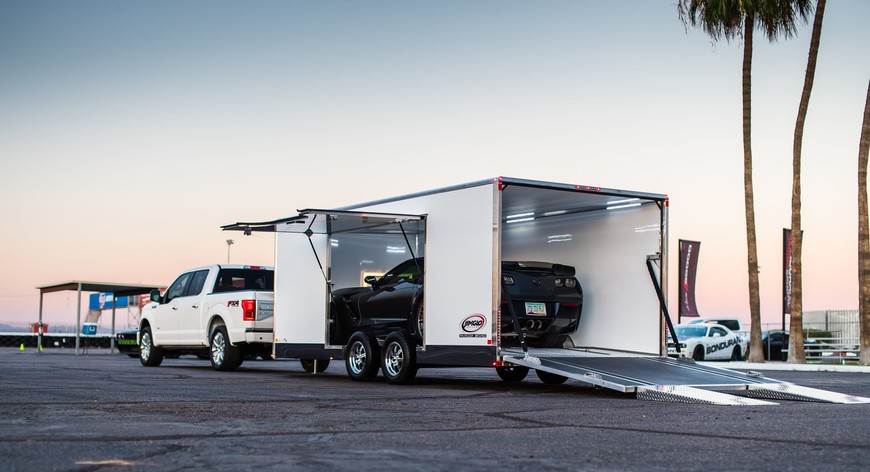 These types of trailers are effective for carrying vehicles to shorter distances. You can safely transport your valuable car to a short distance in this type of enclosed trailer. You will see either gooseneck trailers or bumper pull trailers being used as single-vehicle enclosed trailers. They are commonly pulled by a dually truck.
2. Single-level, Multi-car Enclosed Trailer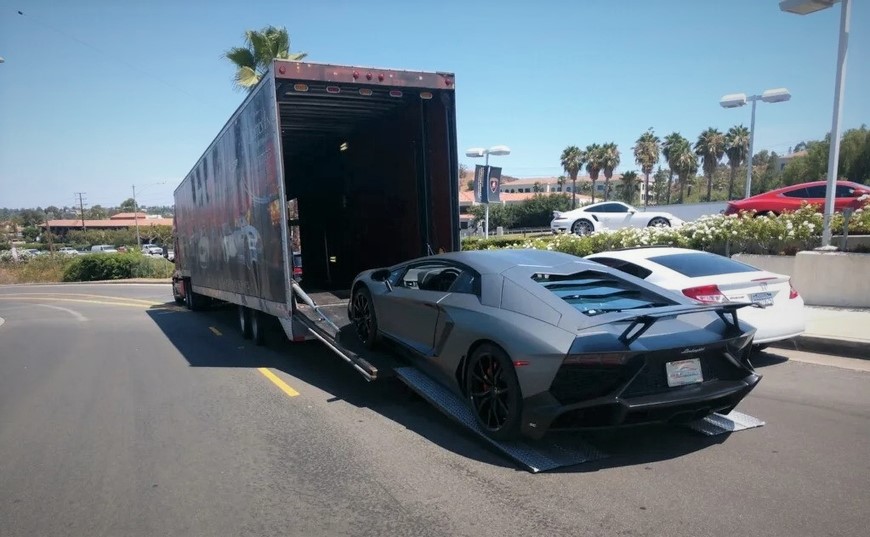 If you want to transport more than one luxury vehicle at once in a single trailer, then this one will be a perfect choice. Such trailers are pulled by semi-trucks. There's no worry about separately booking trailers for multiple cars.
3. Multi-level, Multi-car Enclosed Trailer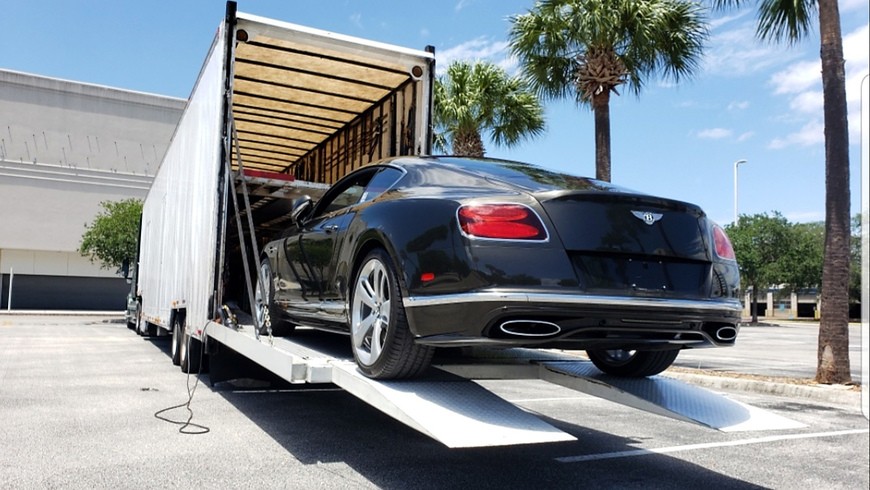 A multi-level trailer can accommodate two stacked rows of cars at a time. Such trailers are very large in size, but they are close to the roadbed. There are adjustable deck ramps, which load and unload the vehicles. Very powerful semi-trucks are used to pull this type of trailer. This is one of the safest options, as multiple vehicles can be transported safely through larger distances.
Enclosed Auto Transport Rates
How Much Does It Cost & What Affects Rates?
Shipping a Maserati 3200 Gt from Dallas, TX, to Los Angeles, CA, in an enclosed trailer will cost you $1,070 only. The average cost for enclosed car shipping is about $1669 for a 1,500 miles' distance. However, this price is largely affected depending on the make and model of your car, distance, and several other factors. The cost will typically be somewhere between $1000 to $2500.
The cost of enclosed vehicle transport largely depends upon the following factors: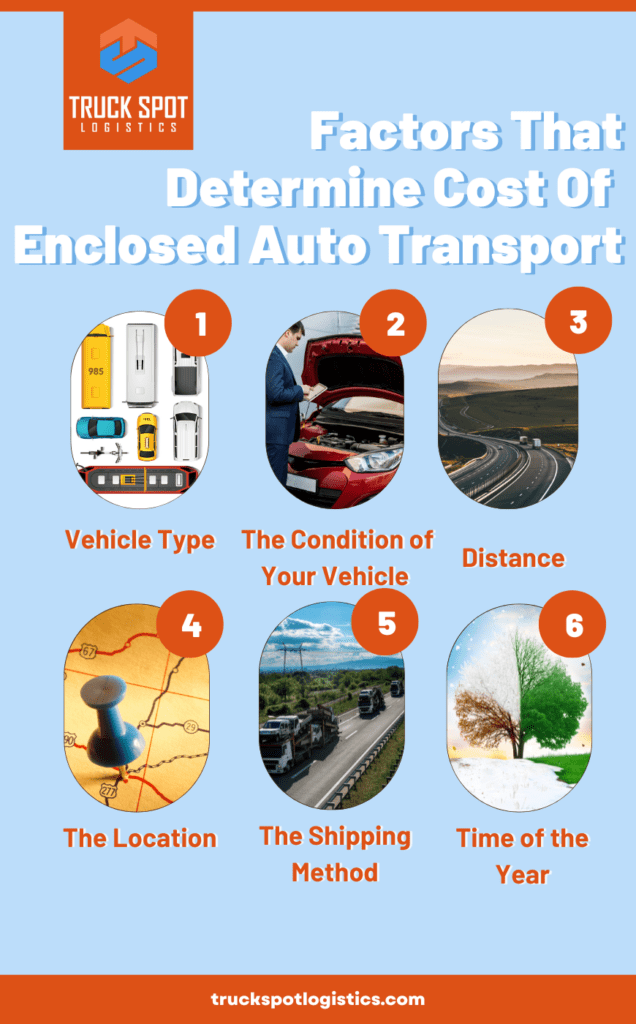 Vehicle Type
Vehicles that are large in size and weigh more will cost more compared to smaller and less heavy cars.
The Condition of Your Vehicle
If your car is in working condition, you have to pay the normal charges. However, inoperable cars require extra effort by the drivers; therefore, they cost more.
Distance
If the distance between the pickup location and destination is larger, then the cost for enclosed car shipping will be higher.
The Location
Pickup and drop-off locations also affect the charges. It will cost less to transport a car from a big city to another big city. But if the destination is some rural place, then auto transport will be expensive.
The Shipping Method
If you have picked terminal-to-terminal delivery, it will cost less than door-to-door shipping. Since the auto transport company has to do the hassle of picking up and delivering to your door, the cost will be more.
Time of the Year
Auto transports are generally at its peak during summer. Therefore, the rate of enclosed auto transport will be higher in these months.
How to Compare Enclosed Auto Transport Quotes?
To compare the enclosed auto transport quotes, you need to check on the companies that provide free and instant quotes. TruckSpot Logistics provides quotes to and from all the states in the US. You can request a quote right away just fill in this form with the required info.
All our partner companies work with a large number of carriers. They have multiple vehicle haulers available at any time, which makes it easier to get quotes. As you can get quotes from multiple companies at a time by sitting at your home, you can easily compare enclosed auto transport quotes.
You need to provide some information to get the quote instantly. Here is a list of things that you should be ready with: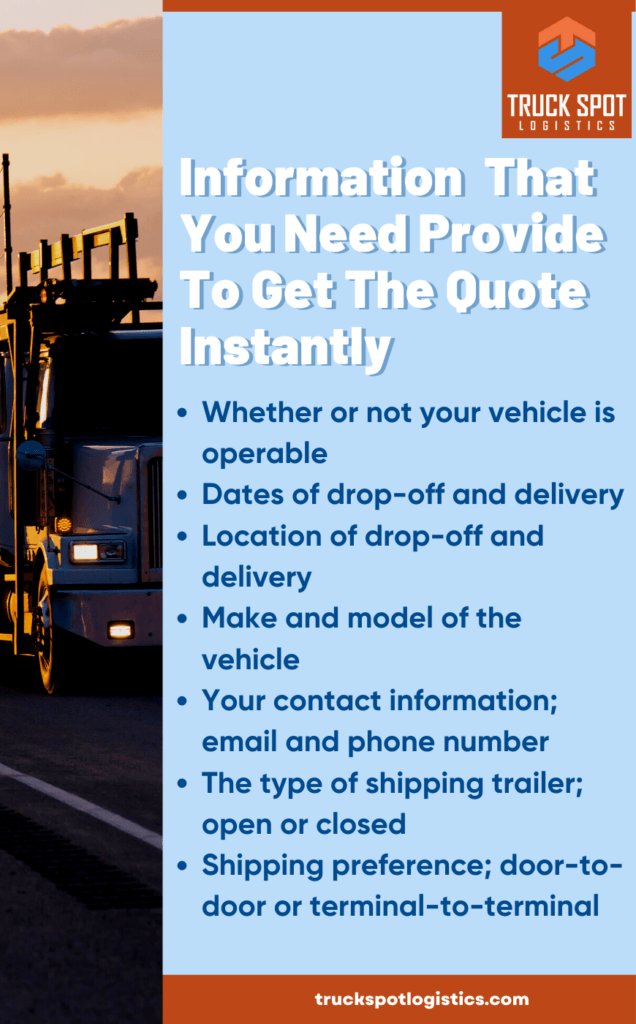 What Documents Are Required For Enclosed Auto Transportation?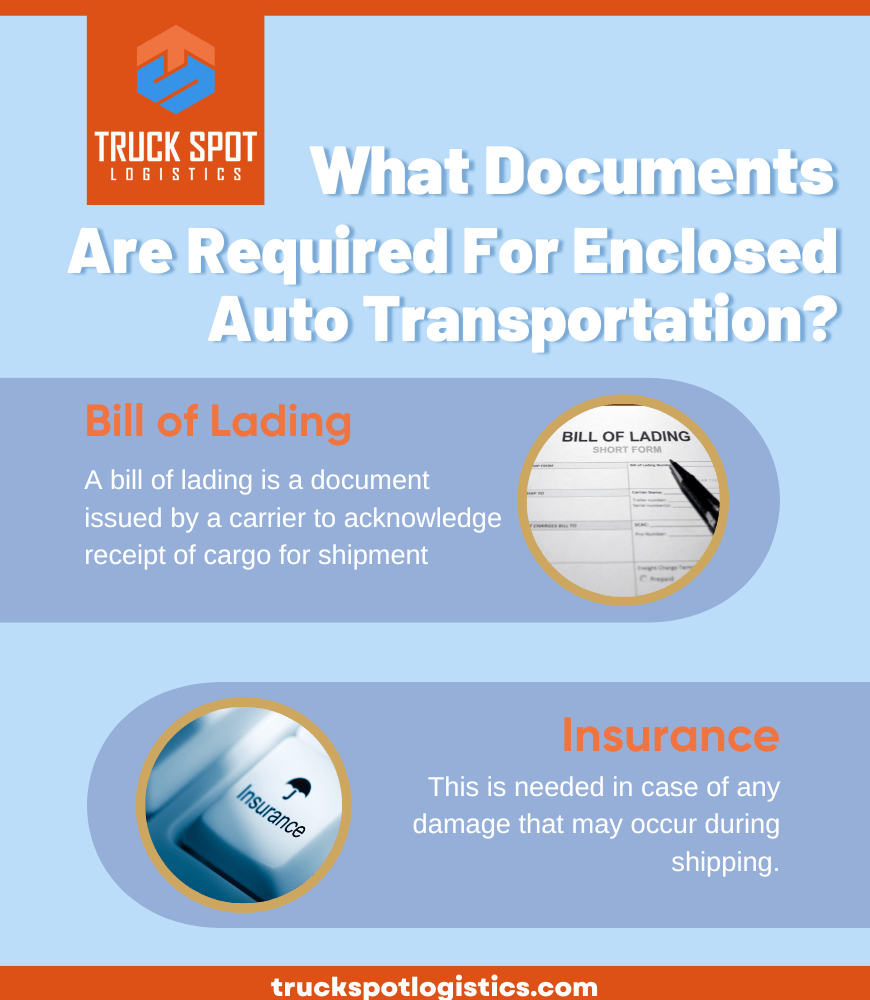 You may need a commercial invoice and packing list during enclosed vehicle transportation. However, the Bill of Lading and Insurance are the most important documents, which we will discuss in detail.
You receive a detailed document from the auto transport company. This is the Bill of Lading, which contains all the essential details of the vehicle shipment and the transportation contract. This bill acts as proof that the vehicle has been delivered in the same condition as it was picked up.
You don't necessarily need to have your own car insurance to transport a vehicle. Auto transport insurance is provided by an insurance company that covers the vehicle in case of any damage to the car. Ensure that you pick a company that has adequate insurance to cover your car (Insurance can be checked on the FMCSA website). Auto transport companies usually don't demand insurance from you, but most companies have this requirement.
How to ship my car in the cheapest way?
Open car transport is the cheapest option, but it comes with many risks. If you want to transport a luxury car safely, it is recommended to pick enclosed car transport with a terminal-to-terminal option. The overall cost is greatly reduced as you pick a terminal-to-terminal option instead of door-to-door.
Can I keep accessories in the vehicle during shipment?
The items you keep in the car add to the vehicle's overall weight, which increases the shipping cost. Also, these accessories inside the car are not covered by insurance for theft or damage. It is better to remove all your personal belongings from the car before shipping.