It is necessary to consider that the car transport company you are going to ship your car is dependable and reliable. The company should be experienced in shipping luxury cars. This will give you peace of mind, and you can travel without worrying about your luxury beast. This article is going to help you with all the important details that are necessary to know before luxury car shipping.
How Does Luxury Car Shipping Work?
Before starting out, you need to understand how the process of car shipping works. So here is the step-by-step guide on how luxury car shipping works.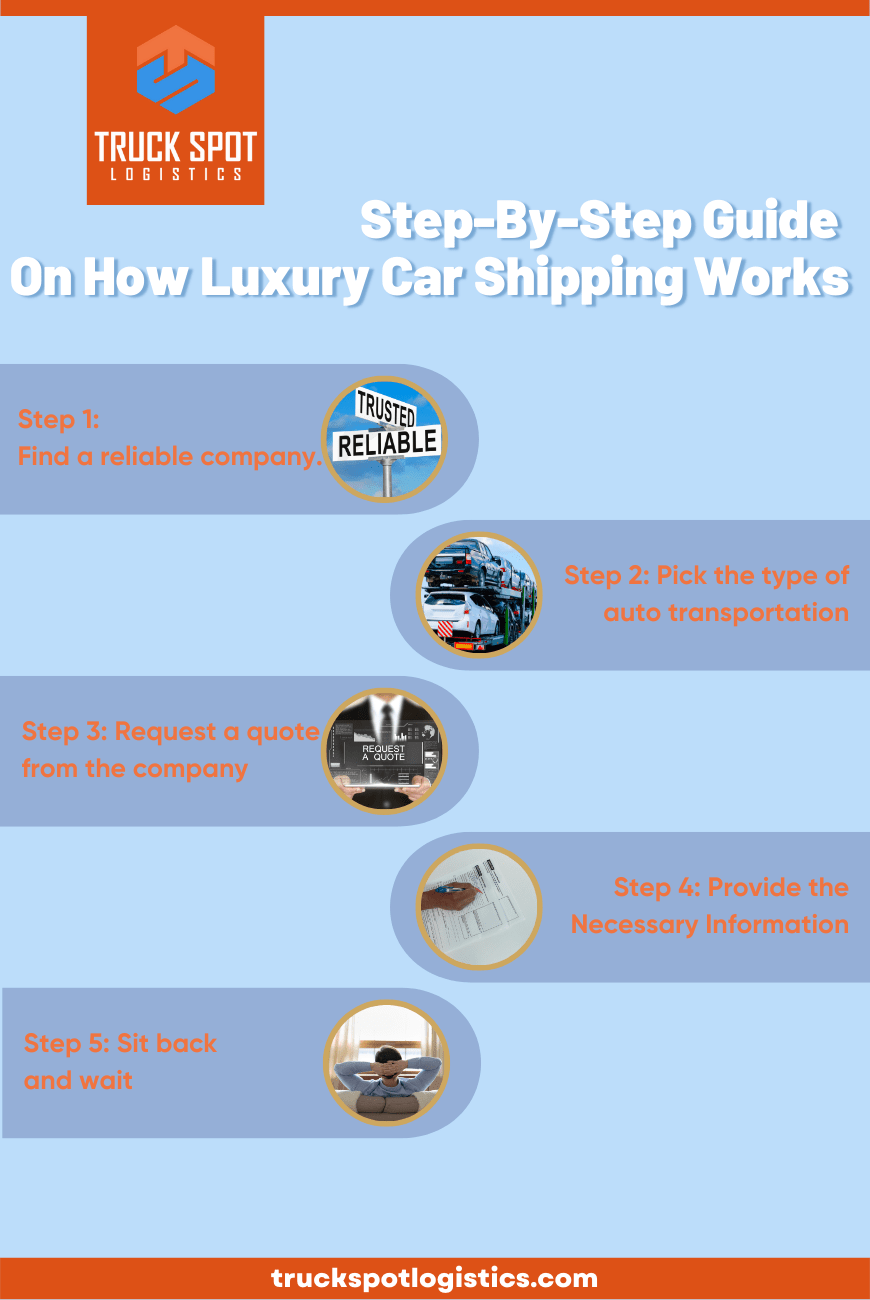 Step one: Find a reliable company.
Do thorough research on the car transport companies as you are going to trust your most important asset to the company. Check the customer reviews to get more information on how the company works.
Step two: Pick the type of auto transportation
If the company doesn't have a separate service for luxury car shipping, then you should directly pick the enclosed auto transportation as it is safer and prevents damage due to the environment.
Step three: Request a quote from the company
Request a quote from the auto transport company giving all the details about your car. This should include the pickup and delivery location, make and model of the car, dimensions, the delivery date and all the relevant information. The company will send you a quote within a few minutes. If you are satisfied with the cost, agree to transport your luxury vehicle with them.
Step four: Provide the Necessary Information
Provide your contact details to the company, and they will ping you with all the details of luxury vehicle transportation. A driver from the company will contact you before picking up your vehicle. Similarly, they will keep you updated about your vehicle during the whole transport process.
Step five: Sit back and wait
After giving your vehicle into safe hands, you just need to sit back and wait for your car to be delivered to your desired location.
Luxury car transport is an easy process if you already have the information about how it works. So, follow the steps to get your luxury car transported without any hassle.
Methods of Luxury Car Shipping
Typically, enclosed car transportation is preferred for luxury car shipping because it's surrounded by resilient material that protects the car from all kinds of damage and environmental conditions. However, there are some other methods of luxury car shipping as well. So let's shed some light on them.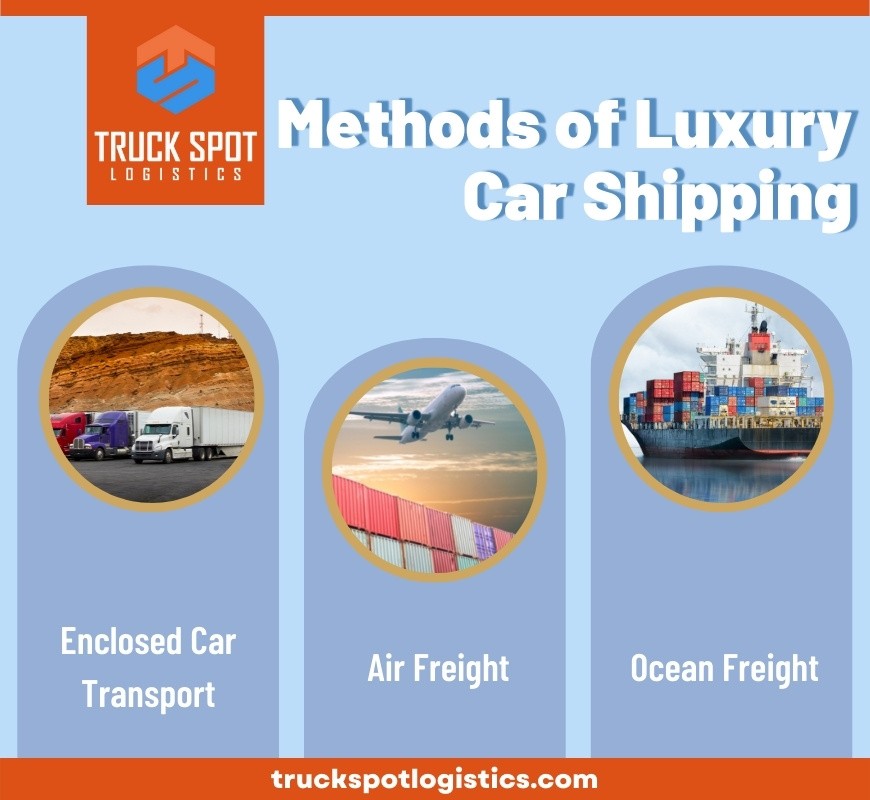 People mostly prefer enclosed car transport because it is the safest method and comparatively cheaper than air freight and ocean freight. The enclosed car transport carrier is surrounded by hard material walls that protect the card from all kinds of hazards. However, this method is available only within the country of auto shipment.
If you cannot take any risk and want to get your car delivered overseas safely, then air freight is the best option. The best thing is that it is available for both domestic and international transportation. However, it is quite an expensive mode of auto transportation. Therefore, it should be preferred only if you have enough budget.
This is another method for shipping a luxury vehicle overseas. It typically included the roll-on/roll-off method and container car transport. The latter is suitable for luxury vehicles as you can select a whole container for luxury car shipping. You can also include your belongings in the container if there is enough space.
Luxury Car Shipping Rates
How Much Does It Cost & What Affects Rates?
We cannot estimate the exact cost because there are a number of factors that influence the price of luxury car shipping. Typically the cost for a luxury car shipping ranges from $1,500 to $2,500, and it goes above and beyond depending upon the make and model of your car and other factors. The factors that affect the shipping rates include: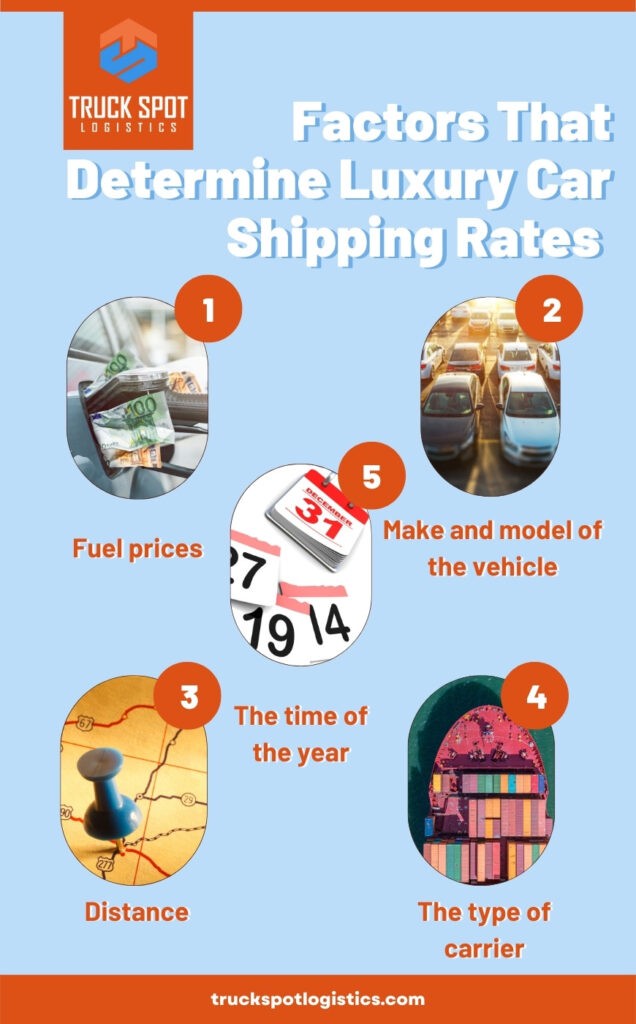 The prices may vary to a considerable extent if there's a change in the above-mentioned factors.
Here is the estimated luxury car shipping cost for popular routes:
| | | |
| --- | --- | --- |
| Pick-up Location | Drop-off Location | Average Quote |
| New York City | Los Angeles | $2,008 |
| Miami | New York City | $1,309 |
| Los Angeles | Atlanta | $1,608 |
| Chicago | Phoenix | $1,612 |
| New York City | Houston | $1,629 |
| Washington D.C. | Los Angeles | $1,629 |
What Documents Are Required For Luxury Car Shipping?
Apart from the basic personal and vehicle information, you need the two most important documents for transporting a luxury car. These include the bill of lading and insurance.
It is an essential document that you receive once your car is delivered to the mentioned location. A bill of lading is a receipt that includes the details of your car's condition at the pickup time. You receive the receipt at the time of delivery and sign it, which means you have signed off on the task as it has been done. A legitimate company will always mention the bill of lading as an important document during the dealings of auto transport.
Insurance Terms & Conditions
Insurance terms & conditions include the details of what is covered. Since the transport process involves lots of risks, having insurance will cover everything. Any company that is authentic and legitimate will definitely include insurance documentation.
Tips on How To Prepare Your Luxury Car For Shipping
When preparing a luxury car for shipping, you need to take special care of it while preparing it for transport. Since your car is a high-value item, you cannot risk any damage. Therefore you should prepare it before the driver comes to pick it up for shipping. Read on to find some tips on preparing a luxury car for shipping.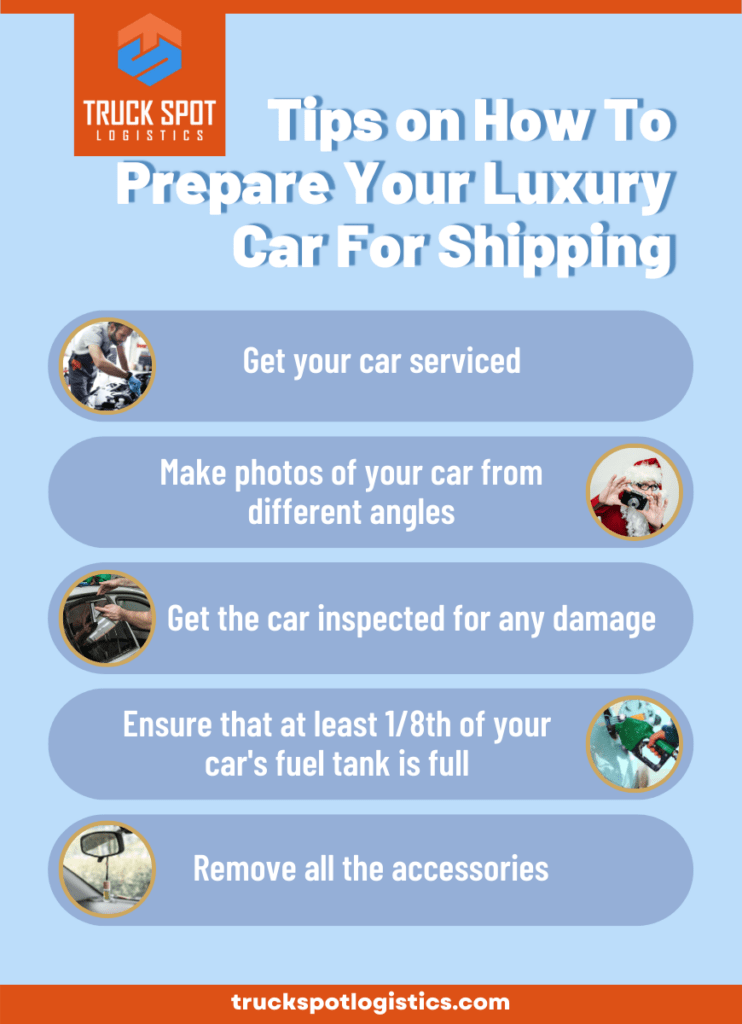 Ensure the above-mentioned tips to get your car delivered to your destination safely.
Is it feasible to drive or ship a car?
Shipping a car by using an auto transport company tends to be more feasible as it doesn't cost your time. In many cases, the overall cost of shipping turns out to be lesser than driving a car yourself to another city or state.
How is luxury car shipping advantageous?
Exotic car shipping not only saves your time and money but also protects your car from wear and tear. The transport companies are experts at what they do, and therefore they always make sure that your car reaches its destination safely no matter what type of container or transportation type you choose.