Receiving a PCS order suddenly can be quite overwhelming as the thought of moving to a different place and transporting a vehicle seems like a hassle. Typically, PCS move during the summer season, which is why auto transport is at its peak during the summer months.
Make yourself aware of the military auto shipping options you have to save yourself from lots of hassle. This guide will cover everything you need to know about military auto transport so that you can move to a new base with peace of mind.
What Is Military Auto Transport?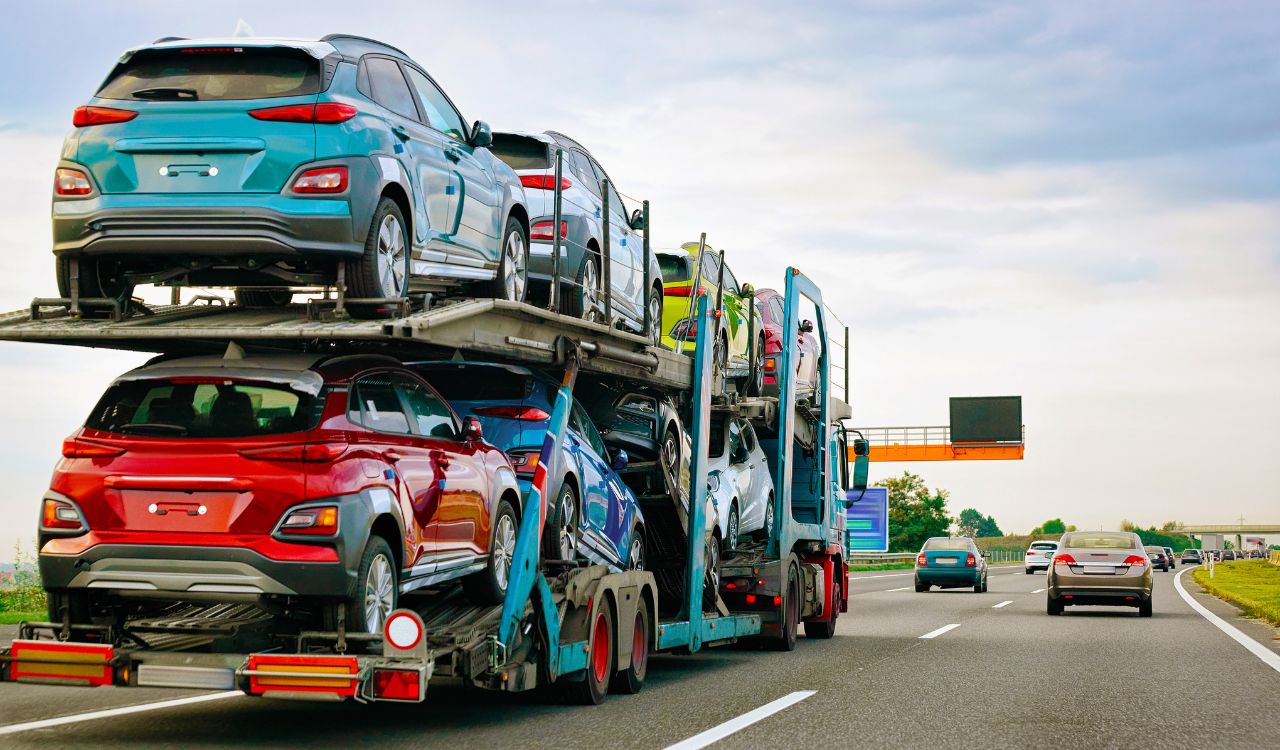 Shipping vehicles for active military members are military auto transport. You need to move to a new location to receive permanent change-of-exchange orders. You can easily get car shipping military discounts with PCS.
Just like a typical vehicle transport, you can get various transportation options. This includes open, enclosed, and flatbed transport methods. You can pick one according to your choice. Remember that the government will cover the cost of POV transport on PCS orders. However, this applies to transporting only one vehicle. If there is another car, you need to cover the cost of shipping yourself.
How Does Military Car Shipping Work?
The military auto transport process is essentially the same as any other vehicle transport. Follow these steps to get your military car shipped with great ease.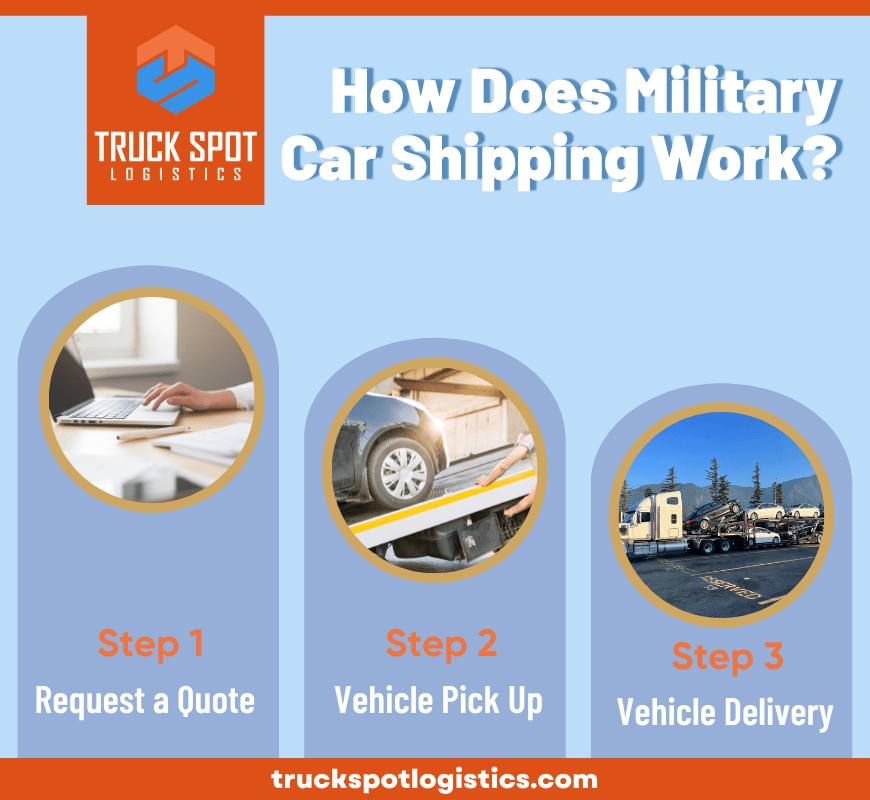 Visit the website of the auto transport company you wish to ship your car through and request an instant quote. Make sure you correctly fill in all the information about your vehicle's make and model, pickup city, delivery location, vehicle condition, transport type, and everything else that is asked in the form.
You will get an inclusive quote from the shipping company. If you are not satisfied with the price, contact them directly. You can get a military discount from the company, which is typically between $25 to $100.
Once you come to an agreement with the auto transport company, they will assign you a driver who will transport your vehicle. You will get a confirmation call from your driver to ensure your vehicle is ready for pickup.
You will receive a copy of the Bill of Lading at this time, and finally, your vehicle will be loaded onto the trailer and taken away. The military shipper will give you an expected date for the vehicle delivery.
Once your vehicle has reached its destination, you will receive a call from the military vehicle transport service to ensure you are available to receive the vehicle.
You will get the car delivered right at the given time. Make sure you carefully inspect the vehicle for any damage. Once you are satisfied, you can do the signature on the Bill of Lading and make the final payment.
How much is Military Vehicle Shipping Cost
The average cost of military vehicle transport from New York to Phoenix is $1,152, which makes about 2,421 miles. You can get military vehicle discounts by contacting the shipping company directly.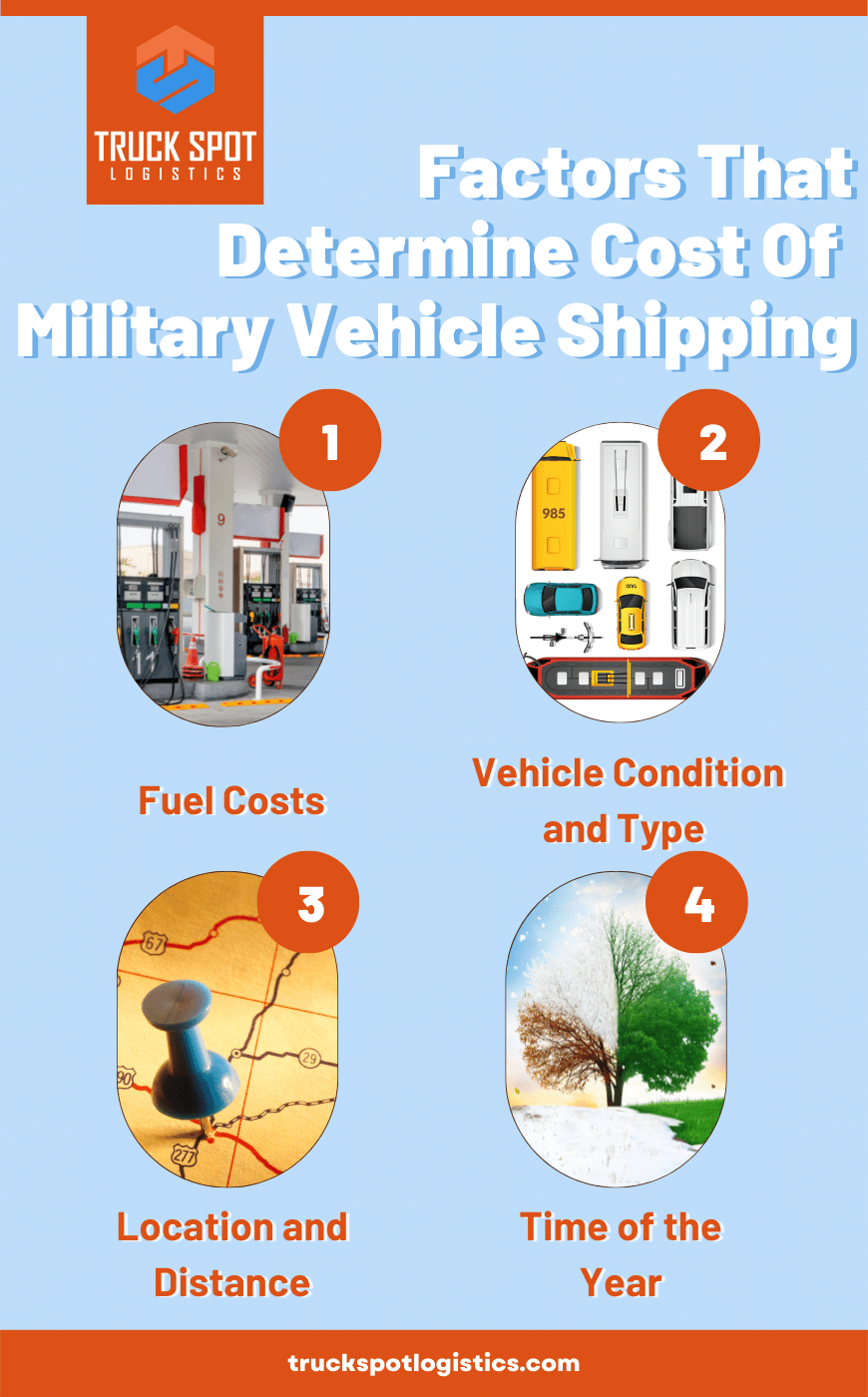 The major thing that affects the cost of military vehicle shipping is the type of transport you choose. Enclosed car transport is expensive compared to open vehicle transport. Similarly, if you have to transport your vehicle overseas, it will cost more than transporting it across Continental US. There are a few other factors as well that affect military car shipping costs.
Fuel Costs
Fuel prices directly affect the cost of shipping. If the prices are higher at the time of transport, the overall cost of vehicle shipping will definitely be higher.
Vehicle Condition and Type
Transporting a small car will be cheaper than transporting a truck or van as the latter occupies more space. Vehicles having more weight consume more fuel. Therefore, the weight and size of the vehicle also affect the shipping cost.
Location and Distance
The farther the destination is, the more it will cost to transport the vehicle. The price would be even higher if the city you want to deliver to is far from the main highway.
Time of the Year
The peak time for car shipping is summer, so it leaves you with fewer options. However, you should also consider the harshness of the climate, as there can be a delay in shipment due to heavy snowfall.
The cost of shipping can be a little higher if you include any extra services, for instance, top loading. Also, ensure there are no extra items in the car that could increase the vehicle's weight or damage it during transport.
Who Pays for Military Auto Transportation?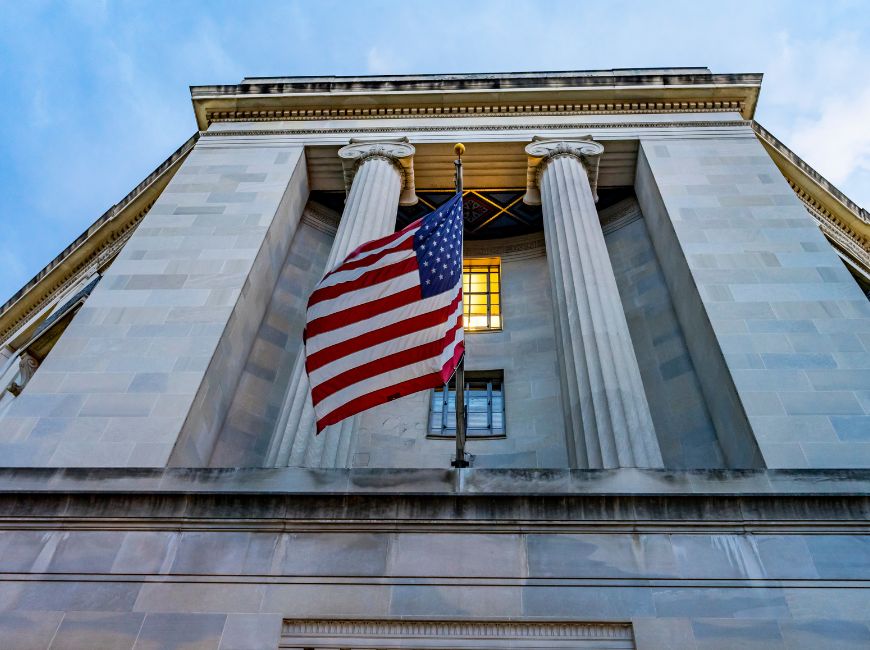 The Department of Defence would pay for one vehicle transportation per posting only if you are either a uniformed service member, a family member under a GPC or a civilian employee. If you have received a permanent change of station (PCS) order, then it will be entirely free.
The Department of Defence will cover the cost of one vehicle shipped from OCONUS (military base outside the contiguous US) to CONUS (continental). Remember that you need to pay from your pockets if you want to transport more than one vehicle.
What and Where can you Ship?
Auto transport companies typically ship any vehicle that you may wish to move. They work almost the same way you transport any regular vehicle. You can expect military auto transport companies to ship cars, trucks, motorbikes, SUVs, or any type of vehicle.
The military vehicle shipping services can transport cars from any city in the US and deliver them to the location you mentioned. They can even deliver the vehicle to the military base if you want. However, delivering at the base requires permission from the base commander.
You don't need to worry if it is not allowed to deliver the vehicle to the military base. Carriers can drop your vehicle somewhere near the base as well.
What Papers Do You Need When Using Military Vehicle Shipping?
Here is a list of documents you should keep ready to transport a military vehicle.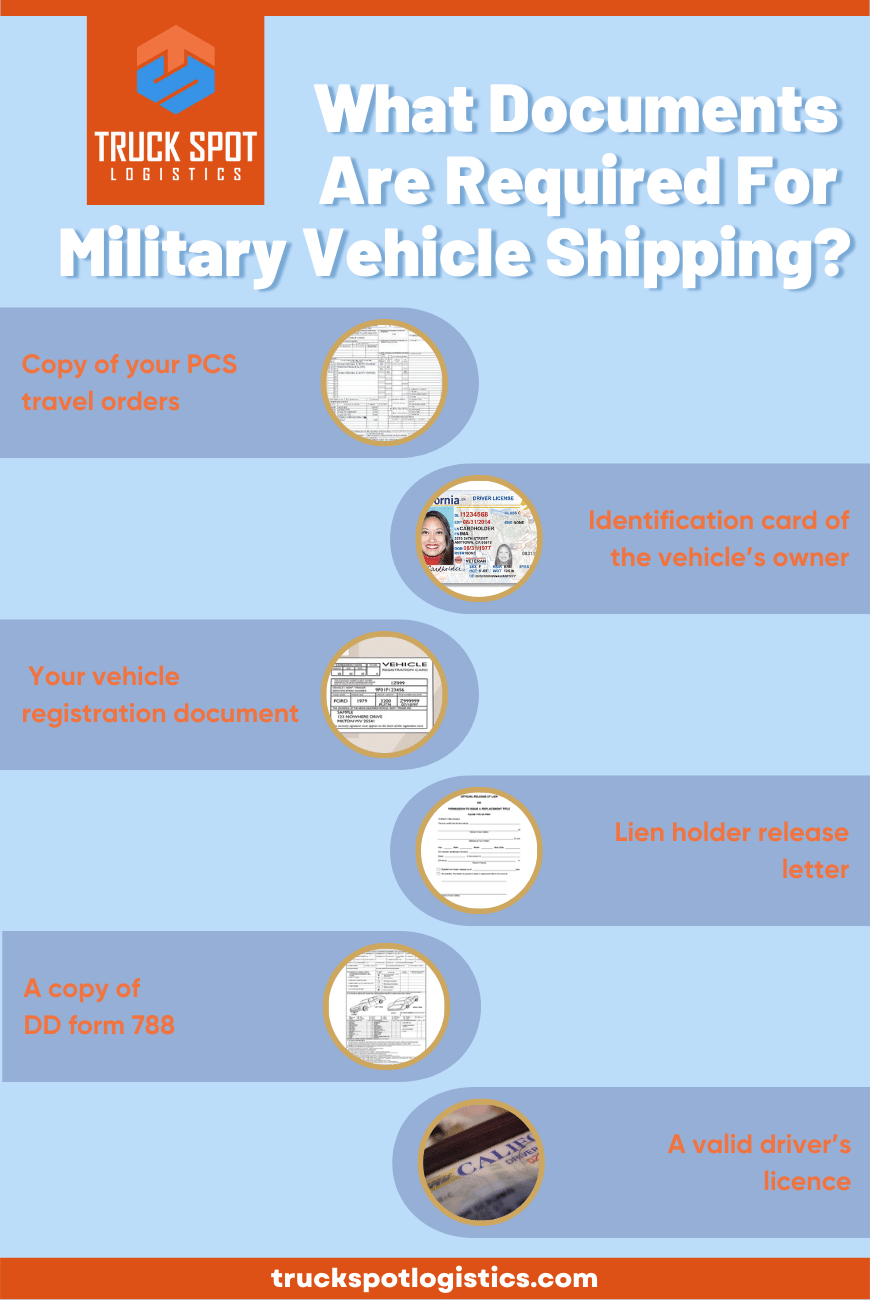 There can be some additional requirements from the shipping company, but more or less, you will need the above-mentioned documents for military auto transport in the US.
You can easily get military vehicle discounts if you are an active military member. The whole process of transporting a military vehicle will become easier if you have all the documents prepared beforehand and have your vehicle ready for shipping. No matter what vehicle type you have, you can get it transported from one city to another at amazing rates with our service.
How long will it take for military auto transport?
The shipping time entirely depends upon the distance and destination. Typically it takes somewhere between 10 to 15 days to transport a military car. However, it will take much longer for a coast-to-coast shipment.
Should my car be insured before transportation?
Most auto transport companies accept vehicles without insurance, while some consider it necessary. However, the carrier should provide cargo insurance to cover any damage to your car during the shipment process. Make sure you check it with the company you transport your vehicle with.