SUVs are one of the most popular types of vehicles in the United States due to their versatility, safety features, and comfort. They are suitable for families, individuals, and businesses who need a reliable and spacious vehicle for commuting, traveling, or hauling cargo. However, with so many options available in the market, it can be challenging to choose the right SUV that meets your needs and preferences. That's why we've created this comprehensive guide to help you understand the top-ranked SUVs, their key features and specifications, and how to find the best SUV for you in 2023.
Overview of Top-Ranked SUVs: Key Features and Specifications
When you're cruising the lanes of SUV options, it's easy to get lost in the ocean of different makes, models, and variants. But hey, we've got you covered! In 2023, there's a whole bunch of fresh choices lined up, each sporting their unique charms and quirks. We've cut through the noise and narrowed it down to five top dogs in the SUV market, all cherry-picked based on expert insights from industry stalwarts like Car and Driver, Consumer Reports, and Edmunds.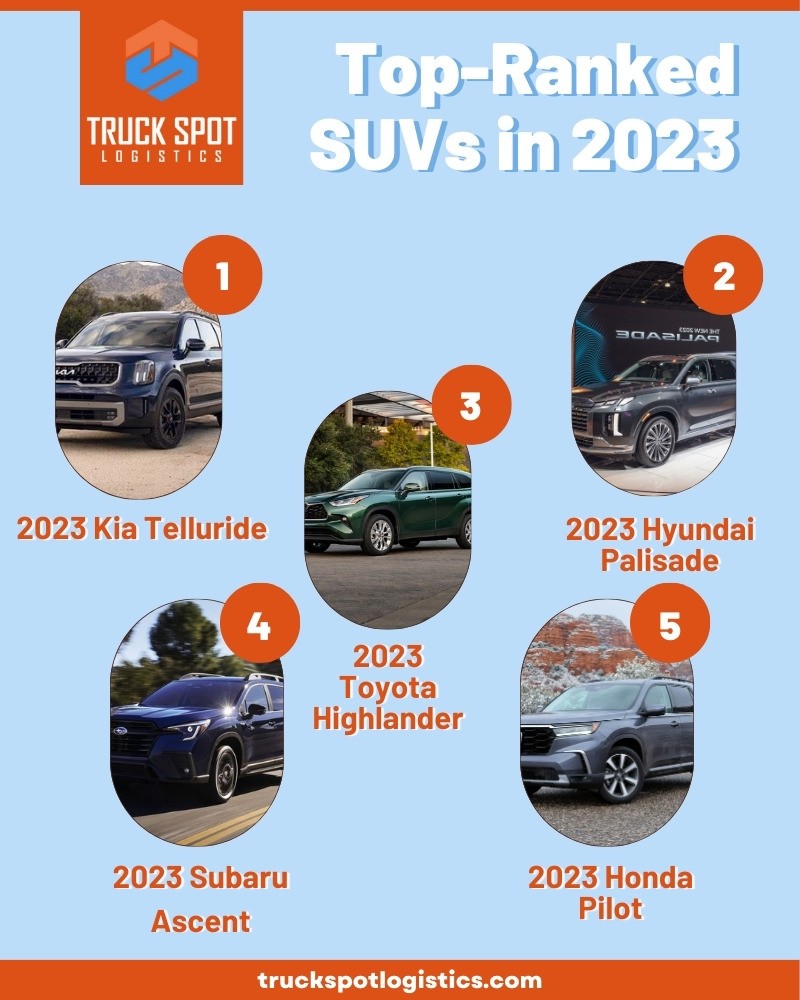 So there you have it, folks – the cream of the crop in the 2023 SUV market. These five beasts are your ticket to a ride that promises comfort, performance, safety, and versatility in spades. Whether you're a solo explorer or have a lively family to ferry around, these reliable and roomy SUVs are set to be your trusted companions on the road.
How to Find the Best SUV for You in 2023
It's no small feat to pin down the perfect SUV in 2023 with so many options at your fingertips. However, armed with the right strategy, you can cut to the chase and find that dream machine. Here's your roadmap to finding the SUV that checks all your boxes: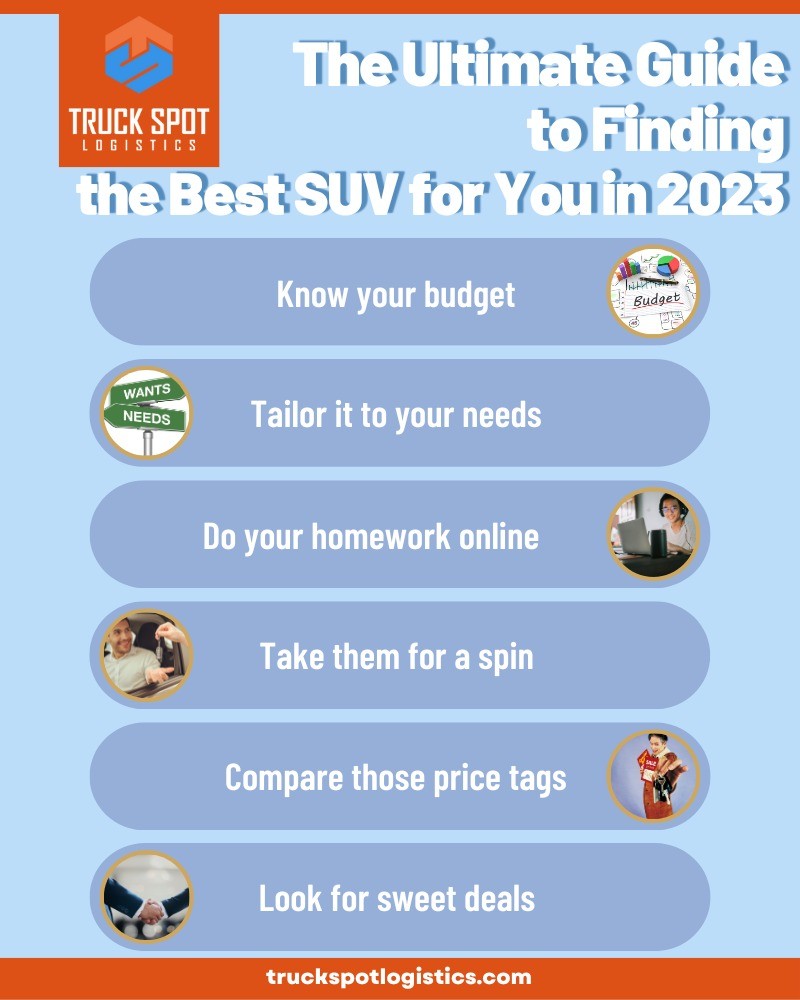 Follow these steps and you're well on your way to nabbing an SUV in 2023 that's a perfect fit for your needs, tastes, and budget. And when you've got your hands on your dream SUV, remember that TruckSpot Logistics is your ally in finding the best transport solution to bring your new ride right to your driveway.
Importance of SUV Specifications during Comparison
In the world of SUVs, specifications are the nuts and bolts that hold the deal together. They are the lifeblood of the vehicle, directly influencing performance, safety, comfort, and even the hit to your wallet. As such, they're crucial to consider when weighing your options. Here's what to put under the microscope: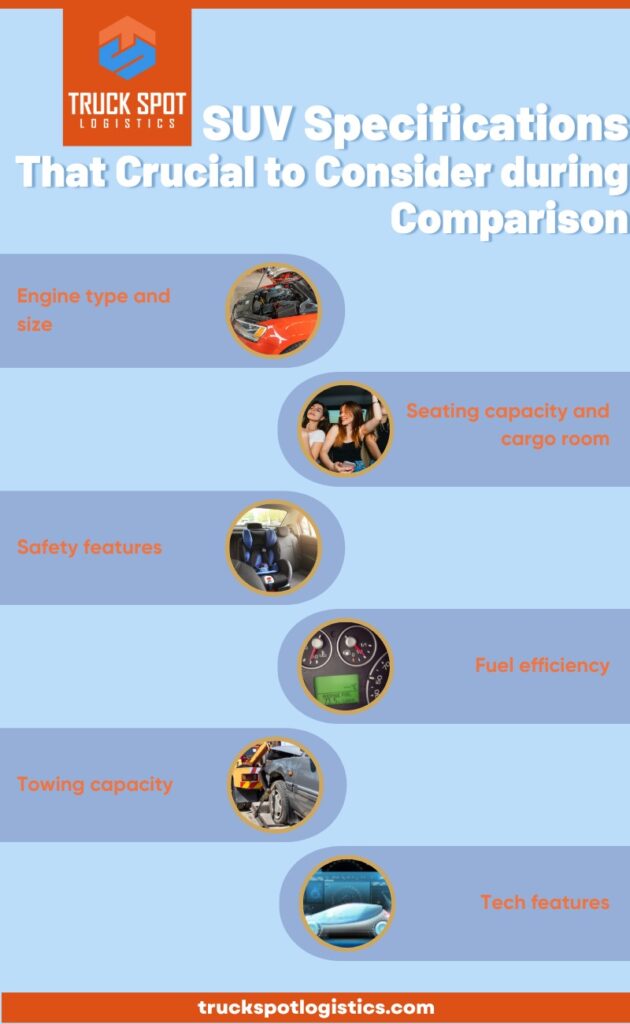 By keeping a keen eye on these SUV specifications, you'll be able to sift through the choices and find the ride that fits your needs and wants like a glove. Once you've landed on your dream SUV, remember that TruckSpot Logistics is your go-to to find the best transport solution that aligns with your budget and schedule.
How SUV Rankings and Specifications Impact Shipping Costs
When it comes to shipping an SUV from one location to another, it's essential to understand that the vehicle's specifications and rankings can directly influence the cost of transportation. Let's break down how: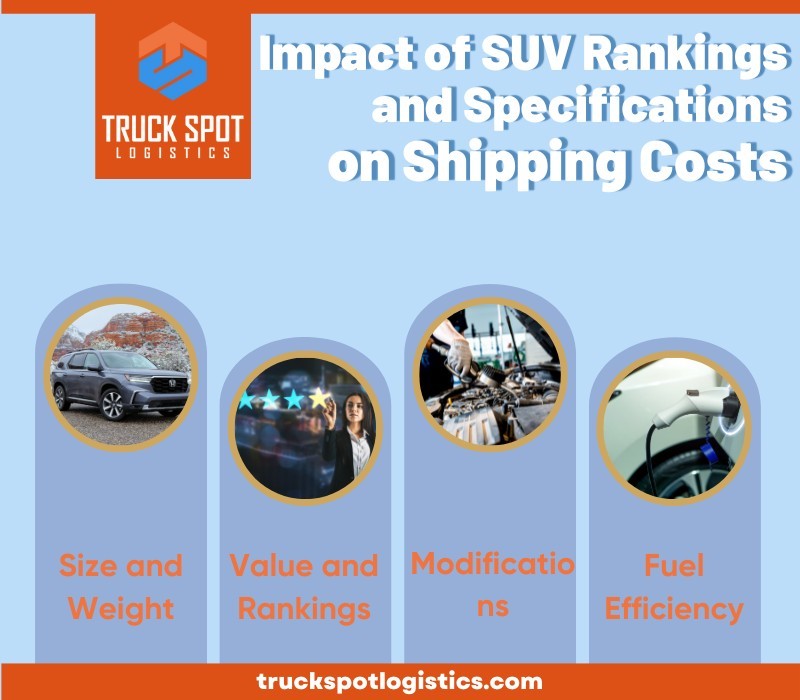 Understanding the key specifications and rankings of your chosen SUV is a critical step in gauging potential shipping costs. It is imperative to recognize how these factors interplay and result in a final quotation. More luxurious or modified vehicles can alter the cost and require a different approach to shipping. Meanwhile, larger and heavier SUVs may simply require more resources to transport.
To ensure a comprehensive understanding of your shipping costs, it is advisable to use reliable and transparent tools like TruckSpot Logistics. This invaluable resource will allow you to compare shipping quotes from leading auto transport companies and identify the best fit for your budget and needs, making the vehicle transport experience as seamless and straightforward as possible.
Navigating the SUV market can seem daunting given the plethora of choices and factors to consider. From the initial process of finding the best SUV that suits your lifestyle and budget, understanding the importance of SUV specifications, and finally, preparing for the vehicle shipping costs – there's certainly a lot to take in.
However, the task becomes considerably manageable when you have the right resources at your disposal. Tools like TruckSpot Logistics provide an effective way to manage one of the significant aspects of your purchase – the shipping. Understanding your potential transport solution is as vital as selecting the vehicle itself.
Remember, it's not just about buying an SUV – it's about finding the best one for you, transporting it safely, and enjoying the journey it provides. Whether you're a family needing a comfortable and safe ride, an adventurer seeking off-road thrills, or an individual wanting a combination of performance and luxury, there's an SUV out there waiting for you. Happy SUV hunting!
FAQs
Are there more affordable SUV options in 2023?
Absolutely! There are many affordable SUV options in 2023. Some of these include the 2023 Hyundai Kona, the 2023 Kia Soul, and the 2023 Mazda CX-3, among others.
Are there hybrid or electric SUV options available?
Yes, many manufacturers offer hybrid or fully electric SUVs as part of their lineup. Examples for 2023 include the Toyota RAV4 Hybrid, Ford Mustang Mach-E, and the Tesla Model Y.
How do I ensure my SUV is safely transported?
When using services like TruckSpot Logistics, you can compare quotes from reputable auto transport companies. These companies are expected to provide a safe and secure transportation service for your SUV.
How much does it cost to ship an SUV across the country?
The cost can vary greatly depending on several factors including the size and weight of the SUV, the distance of the trip, and the specific services you require. To get an accurate estimate, you should use a quote comparison tool like TruckSpot Logistics.
Does the color of the SUV affect its shipping cost?
No, the color of the SUV does not affect the shipping cost. What influences the cost are the vehicle's specifications, size, weight, and value.
Does my SUV's fuel efficiency affect its shipping cost?
Not directly. While more fuel-efficient SUVs can save you money if you're driving them, the cost of shipping an SUV is determined more by its size, weight, value, and any modifications.