Embarking on a long haul with your vehicle in tow?
Whether you're moving cross-country, attending a car show, or selling your ride, understanding the ins and outs of long distance car towing is essential in 2023.
Here at TruckSpot Logistics, we get that finding reliable transport for your car, bike, or boat can be a real head-scratcher. That's why we've made it our mission to link you up with the best auto transport brokers in the biz, making sure you get top-notch service without breaking the bank. In this article, we'll break down the real talk on long-distance towing costs, give you the lowdown on picking a solid long-distance vehicle towing company, and throw in some savvy tips for prepping your vehicle.
So, whether you're shipping a sleek motorcycle or a hefty RV, we've got the scoop on making sure your prized possession hits the road without a hitch. Sit tight as we dive into what makes for a smooth, wallet-friendly move for your wheels—because when it comes to long-distance towing prices and know-how, we've got your back!
How Long Distance Car Towing Works?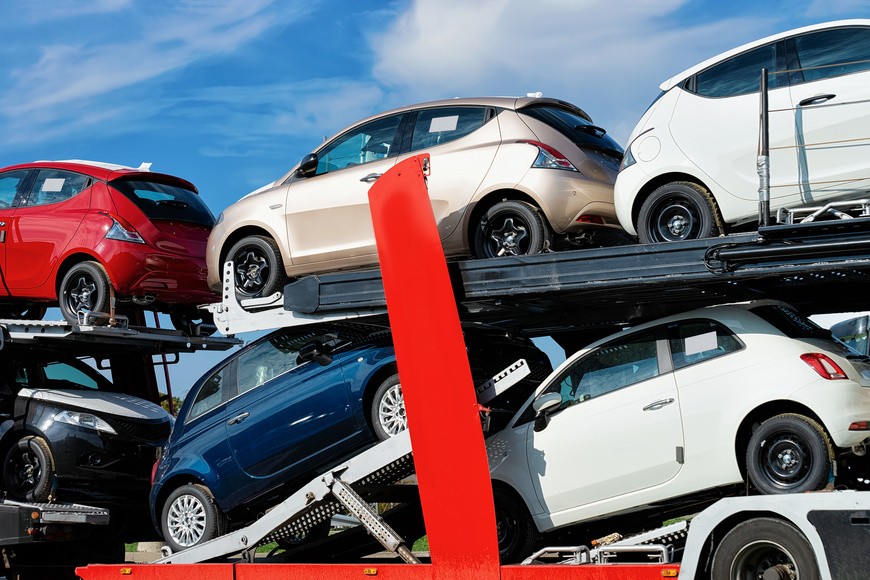 Understanding how long-distance car towing works is crucial when you're looking to move vehicles over substantial distances. Long-distance evacuation refers to transporting a vehicle for around 100 miles. The process begins with choosing the right towing method, be it flatbed towing or using a dolly, which depends on your vehicle type and distance of transport. It can be applied both to cars that are in working order and to those vehicles that cannot move independently. Though usually it's used only for short-distance transportation. For this type of service, the best option is to find some local towing services (for example here is Illinois towing service).
When your situation calls for moving your car without actually driving, towing your car long distances (usual auto transport on a car hauler) is a viable option because it prevents wear and tear on your car. By towing a car on the trailer, you do not increase the number of miles on the engine, which is great if you do not want to increase the mileage (this is especially true for those who transport a car for the purpose of selling).
The only important point is that if you use a dolly to tow a car, the load on the rear tires may be greater than usual. This is because, due to the position the vehicle must be in to be transported with a dolly, there is more pressure on the rear wheels. True, if you use a trailer to tow a car, your car will be immune to wear and tear at all. That's why vehicle towing on a car hauler is an attractive option for transporting luxury, vintage or rare vehicles.
In long-distance towing, the journey's length can impact the choice of towing method and the planning required for safe and efficient transport. Professional long-distance towing services are equipped to handle the logistical and mechanical challenges of moving vehicles over hundreds of miles. Adhering to safety standards and transportation regulations is a top priority in long-distance car towing, ensuring that your vehicle arrives safely at its destination.
For instance, towing a vehicle from New York to California involves meticulous route planning, regular vehicle checks, and adherence to interstate transport regulations.
Now that you're familiar with how long distance car towing operates, let's shift gears and discuss the next critical topic: the factors that determine long distance towing rates, so you can budget wisely for your vehicle's journey.
Long Distance Car Towing Rates.
How Much Does It Costs & What Affects Rates?
Figuring out the cost to tow your car across the country? Well, let's break it down. Long distance towing costs aren't just pulled out of thin air—they're based on a mix of factors that all add up to your final bill. Here's what you need to consider: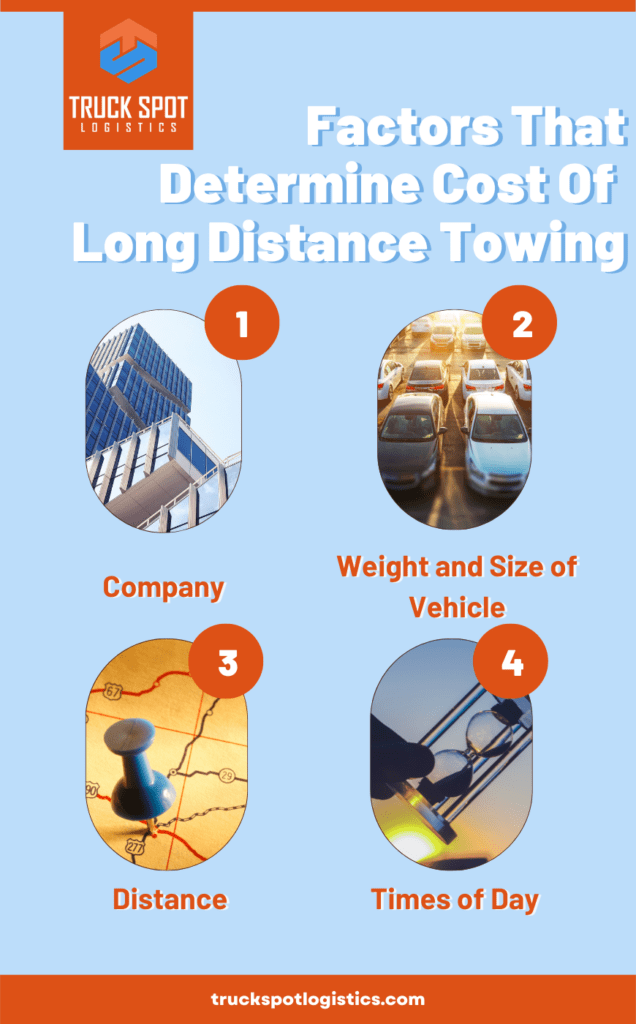 Let's put this into perspective with some ballpark figures to give you a sense of what you might be shelling out for long distance car towing:
Remember, these are just estimates. Your actual long distance towing costs could swing higher or lower based on things like fuel prices, the time of year, and how far off the beaten path your pickup or drop-off spots are.
To get the most accurate estimate of your long distance car towing service, we invite you to request a tailored quote from TruckSpot Logistics.
So, what's next? Now that you've got the lowdown on what goes into the cost of a long distance vehicle towing company, let's switch lanes and talk about how to pick the right one for your car towing service long distance needs. After all, it's not just about the price—you want your vehicle in the hands of folks who'll treat it as their own.
How to Choose a Long-Distance Vehicle Towing Company?
Choosing the right long-distance vehicle towing company isn't just about finding the lowest price—it's about ensuring reliability, safety, and peace of mind. When looking for a long distance-car towing service, it's important to weigh long-distance towing costs against the quality of service offered. When choosing it, the following criteria should be taken into account: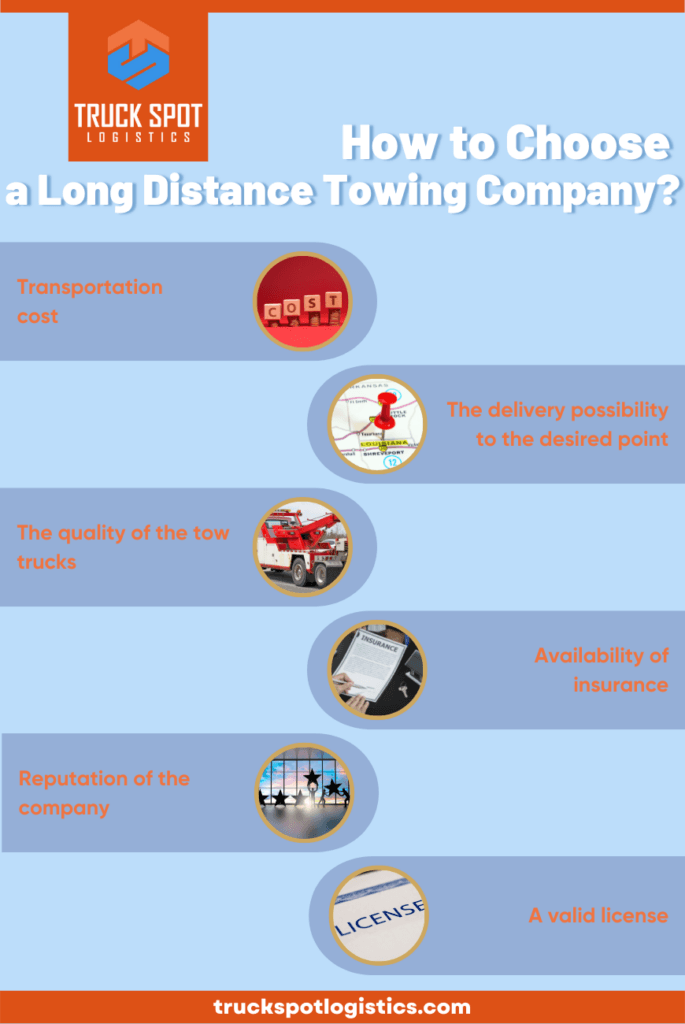 Transportation Cost
Car evacuation is a rather expensive pleasure, so you should not conclude an agreement with the first company that is found.
The Delivery Possibility
The possibility of delivery to the desired point (some companies provide delivery to a specific point and do not take into account the individual wishes of the owner of the vehicle).
The Quality of The Tow Trucks
The quality of the tow trucks used by the company. There are different types of tow trucks and they can be used for long-distance towing. However, you should work with someone who has specialized trucks to ensure that your car is not damaged in transit (for maximum safety, it is worth using covered car transporters – not all companies that provide services have them). You should look for companies with large or heavy tow trucks. Tow trucks are built strong enough to tow your car easily. They are ideal for long-haul towing as they are less likely to stall in the middle of a trip. Delays can be expected if you use low-quality tow trucks that stop on the road, as another tow truck will have to come and move the stalled tow truck.
Reputation of The Company
The reputation of the company is feedback from people who have already used the services of a particular company. To get a real understanding of the company reputation, you should check such sites as transportreviews.com or trustpilot.com.
Availability of Insurance
Ensure that car towing service long-distance is fully insured, providing protection for your vehicle during transit. All carrier companies operating in the USA according to the USA law have to have an insurance.
A Valid License
The company needs to have a license (license can be checked on this site: https://li-public.fmcsa.dot.gov/LIVIEW/pkg_carrquery.prc_carrlist).
To transport a car from one state to other, you can use various services that offer their services in this area or our long-distance car towing rates comparison service. To order a service and determine the cost of transporting a car, you need to select the brand, model of car, condition of the car, point of departure, and destination – everything is as simple and convenient as possible.
So that you can at least roughly navigate the pricing policy, here are a few examples of prices for car delivery services:
It is worth noting that long-distance rates are calculated with a regular sedan traveling to/from major cities for each location listed and can vary $100+/- depending on several factors including weather, time of year, distance from highways, urban or suburban location, and current fuel costs. Gather several quotes to compare long distance towing prices, but remember that the cheapest option may not always be the best.
After selecting a towing company that meets your standards and budget, the next step is to understand the paperwork involved. Let's dive into the long-distance towing documents you'll need to have in order.
What Documents Are Required For Long-Distance Towing?
Before hitting the road, it's critical to have all your paperwork in check to avoid any roadblocks in your long-distance towing journey. To transport a car, you need to take care of the preparation of such shipping documents as: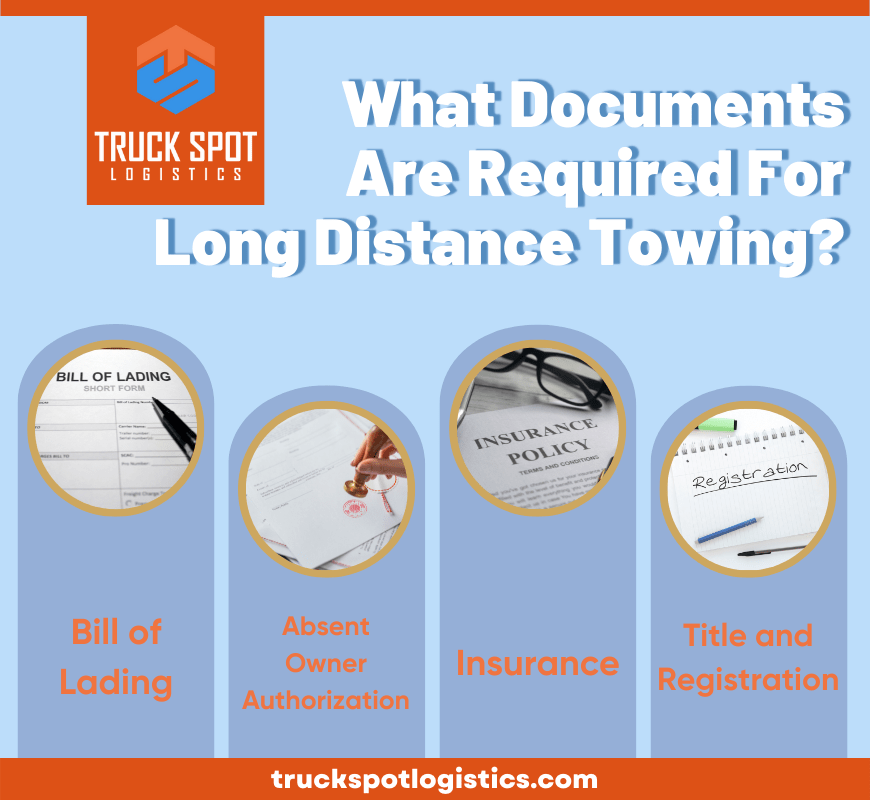 Bill of Lading
The bill of lading (BOL) is a document of the established form, which is issued by the carrier (ship owner) as evidence of the fact of acceptance of the goods for transportation and the conclusion of a contract of carriage. The main functions of the bill of lading are that it contains the terms of the contract for the carriage of goods, acts as a carrier's receipt, and acts as a document of title. Considering each of the functions of the bill of lading, the uniqueness and versatility of this document become obvious. It contains crucial information such as the names of the consignor and consignee, type of cargo, and weight.
Absent Owner Authorization
If a person other than you is picking up your vehicle from transport, you must sign this form to authorize them. A car transport company can supply an absent owner authorization form.
Insurance
Not all insurance companies cover damage that can be caused to a car during a long-distance evacuation (this point should be clarified with your insurance company, as well as with the carrier).
Title and Registration
You must bring these documents with you when dropping off or picking up your vehicle from transport. Scan them and email them to your transporter beforehand if you have them at hand.
Photo ID
A driver's license or any government-issued ID will do. It's just to confirm that you are who you say you are.
If you're scratching your head wondering where to snag these docs, start with a call to your insurance agent and a quick trip to the local DMV if you need copies. And hey, a pro-tip: your long-distance vehicle towing company can often help you figure out exactly what you need for the journey.
Now, with the paperwork poised and ready, you're almost set to send your car packing. But wait, there's more—getting your car prepped and primed for its big trip is up next. Stay tuned as we dive into the essential tips for preparing your vehicle for long-distance towing without any surprises on the bill or the road.
Tips How To Prepare Your Car For Long-Distance Towing
Alright folks, let's talk turkey about getting your car ready for its big journey. Prepping for long-distance car towing isn't just busywork. It's the smart way to dodge delays and keep those long distance towing costs from climbing. Here's a down-home guide to prepping your ride: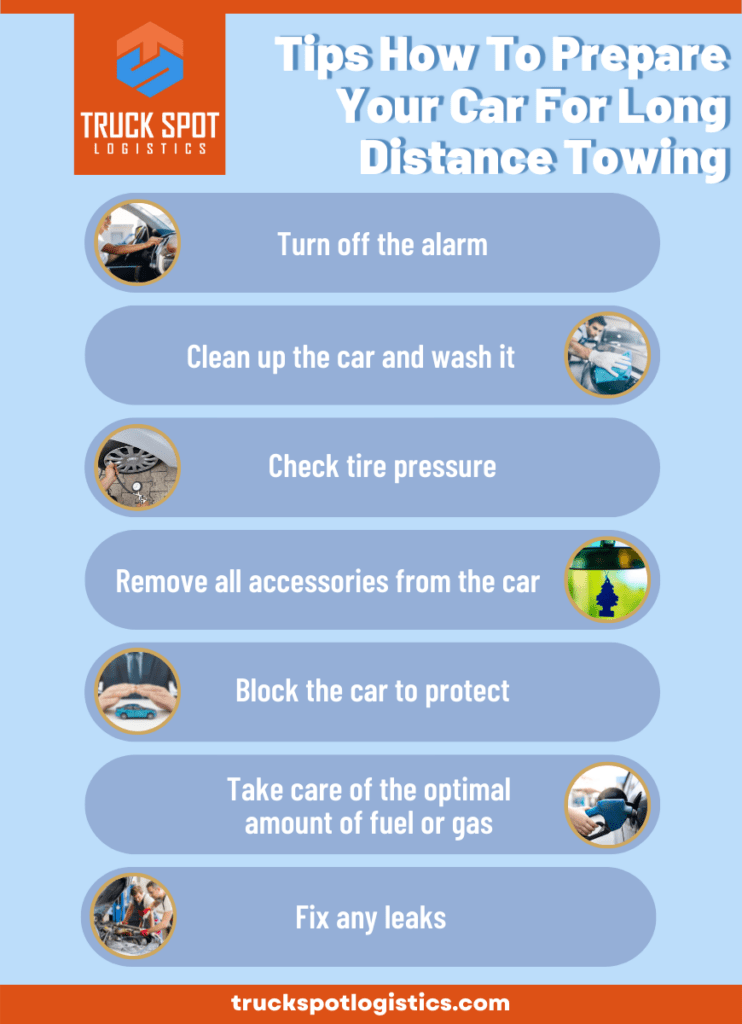 So there you have it—your car is now primed for the long haul. Follow these steps and when it's time for a long-distance vehicle towing company to take the wheel, you can kick back knowing your car is in tip-top shape for the ride.
As we wrap up our journey through the ins and outs of long-distance car towing in 2023, remember that knowledge is the best tool in your kit. From understanding the nuances of towing rates to selecting the right long-distance vehicle towing company, and preparing your vehicle for the trek, you're now equipped to make informed decisions that ensure your vehicle's safe arrival without unnecessary costs or stress. Whether you're relocating, selling, or just transporting your vehicle to a new spot, TruckSpot Logistics is here to help bridge the gap between you and reliable towing services. So, go ahead and request that quote, secure in the knowledge that you're ready to roll on to your vehicle's next adventure. Safe travels!
FAQs
Is Long Distance Towing the same as Auto Transport?
Yes, it is. A long-haul tow company is usually similar to a trucking company. Because most of the cars moved this way across the states. Though emergency towing for a short distance is absolutely another service.
Do I need to know which type of towing I need before calling?
Yes, you should know if you need local or long-distance towing before contacting us for help, as we can help you only with long-distance vehicle transportation.
Does my insurance company cover roadside assistance or towing?
Your car insurance company may include roadside assistance or towing costs. Each company is different, so you should check with yours and see if this service is available. Many of the large car insurance companies offer this service for an additional price.
What factors into the cost of long-distance car towing?
Long-distance towing costs can vary based on several factors, including the distance of transport, the type of vehicle being towed, the time of year, and the specific services you require from the long-distance vehicle towing company.
Are there ways to reduce the cost of long-distance vehicle towing?
To potentially reduce your long-distance towing price, consider scheduling during off-peak times, being flexible with your pickup and delivery dates, and removing any unnecessary items from your vehicle to reduce weight.
Will my vehicle be insured during long-distance towing?
A professional long-distance vehicle towing company should provide insurance coverage for your vehicle while it is in their care. Always ask for proof of insurance and understand what is covered.