Auto transport is hectic and stressful for the one shipping his vehicle. If you often do that, you must have learned from your mistakes by now. But if you are sending a car for the first time, here are a few common mistakes you can avoid.
Common Vehicle Shipping Mistakes and Their Solutions
Not Comparing Price Quotes
When opting for any service, we all know it is wise to compare price quotes from various service providers. A common mistake people make when booking a shipping service is not checking with other shippers. Comparing only the price quotes is not necessary. When comparing two shipping service providers, you also compare their offerings, customer reviews, and much more for a detailed comparison of various price quotes, feel free to visit Truck Spot Logistics. Here, professionals will help you in comparing price quotes from top shipping companies in the business.
Not Choosing the Right Shipping Company
The problem with many vehicle shippers in the US is that people often select the wrong service provider. A good parameter for identifying such a company is its low-price quote compared to the market rate.
To only have trust-worthy companies on your list, here are a few tips:
The shipper's company must be registered with the Department of Transportation. Run a thorough background check to see the legitimacy of the company. You can do this by checking the reviews of the company. Talking to the representatives at a potential shipping company can be a great idea to look into what they are offering. Do the same with all the companies you have short-listed.
Failing to Check the Insurance Policy
Almost all shipping companies offer some insurance coverage, but the individual policy varies everywhere. Many people fail to cross-check the insurance policy and its validation when booking shipping services. In terms of insurance, do not trust any quotes without proof. Or an even better option is to ask the company for insurance proof in the form of a certificate from the Department of Transportation.
Not Providing all the Required Documents
The company will ask you for a few necessary documents when shipping your vehicle. These include the bill of lading, insurance terms and conditions, vehicle registration, photo ID, etc. I will share details of all the required documents in a later section. You must abide by all the document requirements of your shipper.
Not Recording Damages
When documenting your vehicle's condition, it is important that you correctly register all its damages. The shipping company often asks you to fill out a vehicle inspection form. Also, they physically inspect your vehicle and document its condition. You should always cross-check their report for accuracy. And simultaneously, if they missed any damage in reporting, do point it out. For self-record, you can also take pictures of different parts of your vehicle.
Leaving Belongings in the Car
One of the most common mistakes people make when handing over their vehicle to the shipper is leaving behind personal belongings. Double-check the dashboard, seat pockets, and any other storage area your car has for any individual item.
It is impossible to give an exact quote without knowing the particulars of the vehicles and details of the preferred shipping method. Here are a few price quotes calculated for specific cars to specific destinations.
Factors Affecting the Shipping Cost
As mentioned, the cost of shipping a vehicle varies based on many factors. These include: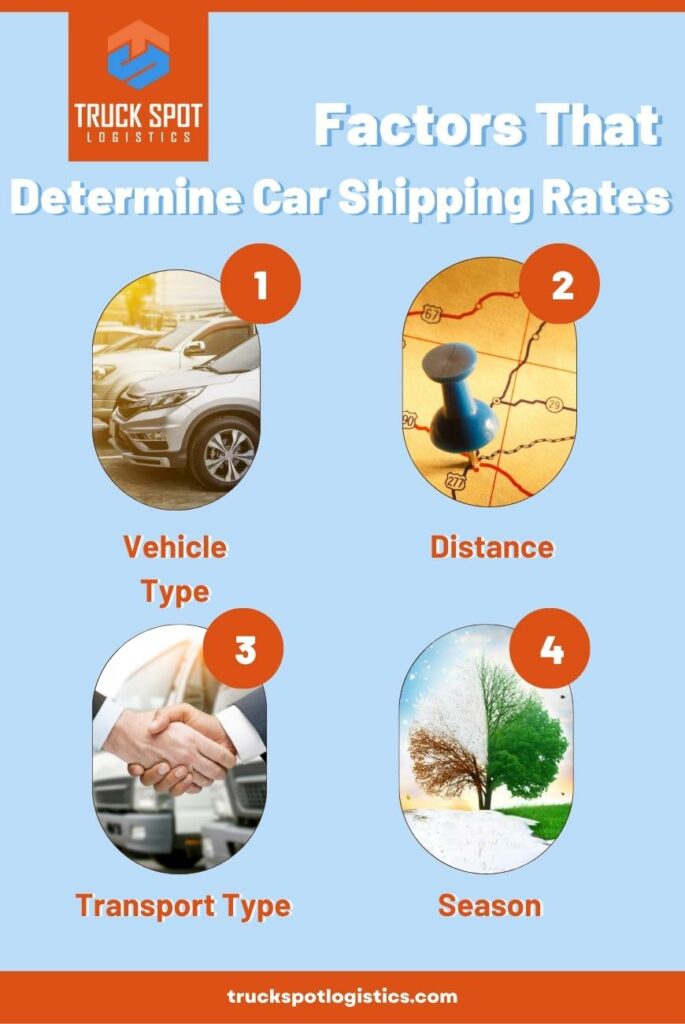 Vehicle Type
The type of vehicle you are shipping is important as the shipper needs to allocate designated space to your car. It is very important for safely transporting your vehicle to its destination. For heavy vehicles, you might need to provide dimensions.
Distance
Distance of shipment is as important as vehicle type in terms of the cost of the shipment. Both are quite critical in deciding the price quote of freight. It is self-explanatory that the farther you ship, the more expensive it gets. Different companies have different distance policies. Most of them charge per mile. However, the rate of each mile decreases as the distance increases. So, a short distance is often cheaper, but the rate per mile is higher. On the other hand, the cost of long-distance might seem expensive, but it has a lower per-mile rate.
Transport Type
Generally, there are two types of transport vehicles; available and enclosed. The latter is significantly expensive. You can opt for enclosed transportation if the weather is unfavourable or you want to protect your vehicle from external factors. However, available transit is not as risky as it may sound in comparison.
Season
If you want to cut the shipment price, opt for off-seasons such as winters. But with this, keep in mind that shipping may take longer than usual, and some areas might have blocked roads and suspended shipment service. Summer is the peak season for shipping services, but the cost is higher.
Necessary Documentation To Avoid Problems During Vehicle Shipping
To avoid any delay in your car shipment, you should provide the company with the following documents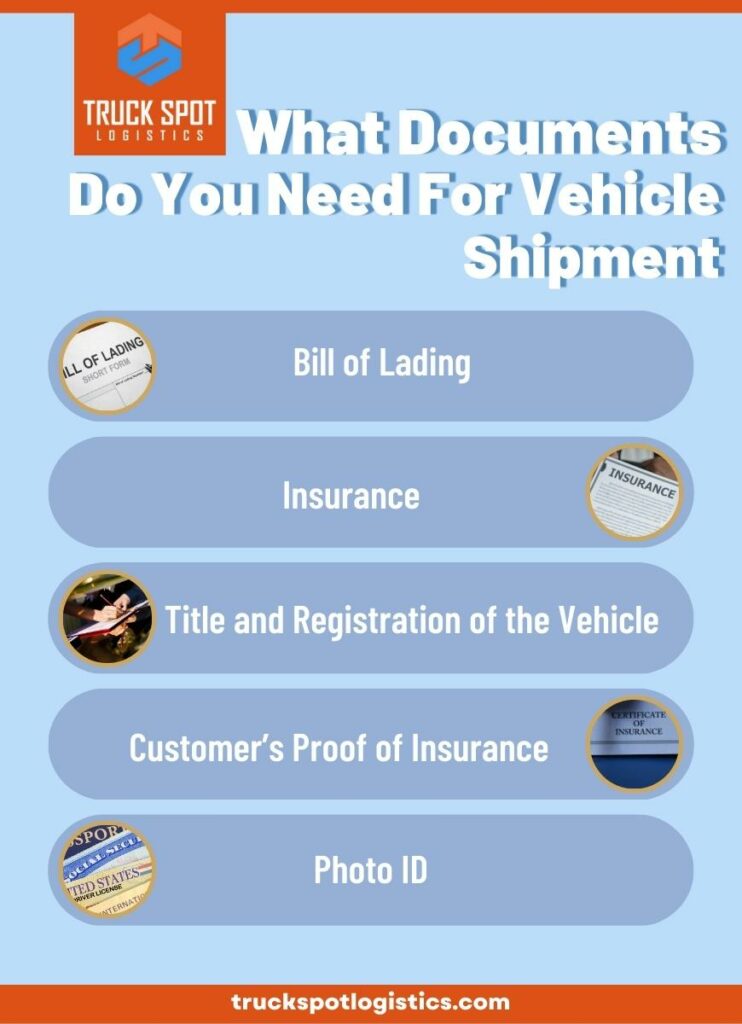 Bill of Lading
Also written as BOL, a Bill of lading is the most important document required for the shipment of a vehicle. It documents the condition of your vehicle pre and post-shipment. In case of any damage to your car, make a note on the Bill of Lading. Otherwise, you are eligible to claim insurance money. Bill of Lading also serves as proof of delivery.
Insurance
All the insurance documentation provided to you by the company is necessary. Without it, you won't be able to claim any insurance money. Also, it is proof of the terms and conditions of the insurance. Make sure you carefully read them beforehand.
Title and Registration of the Vehicle
Most companies do not require this, but some may require you to submit proof of ownership and the vehicle registration document to be transported.
Customer's Proof of Insurance
This one is also a secondary importance document. Most companies do not check for any previous insurance proof when shipping a vehicle.
Photo ID
Like the above two documents, a photo ID is not often required. Even if a shipment company asks you for a photo ID, it is for their record, and you can even show your driver's license there. It will do the job.
Do I need a Bill of Lading?
Yes. The car shipping company will provide it. As it is proof of documentation of damage, it is a crucial document.
Can I pay for a car shipment with a debit card?
Yes, you can pay with a debit card in almost all instances. However, always cross-check the availability of this service with the shipment company.
Do I require to have personal insurance for shipping a vehicle?
No, that is not a requirement for vehicle shipment.
What are the must-have documents for vehicle shipment?
Bill of Lading and insurance proof are the must-haves. All other documents are of secondary importance for most of the shipment companies.